Wickets produced for the T20 World Cup has been outstanding – David Warner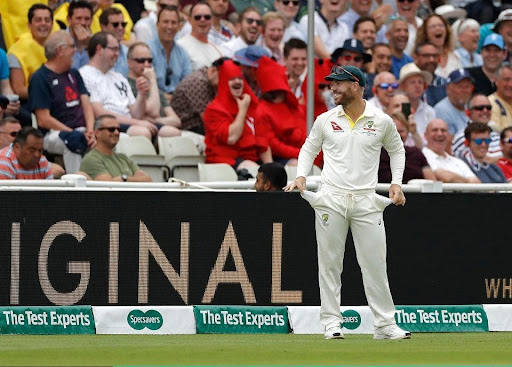 England's Barmy Army/Twitter
David Warner played very well as he smashed an unbeaten 89 off 56 balls and he said the wickets that have been produced here were nice and true.
Australia came into the T20 World Cup after consecutively losing two series against Bangladesh and West Indies by two 1-4. Before the mega event, Australia was in total trouble and their confidence was not much high.
Kangaroos were not the favorite to qualify for the semi-final from the toughest Group 1 in the tournament.
Now Australia has walked into the T20 World Cup semi-finals after an impressive eight-wicket win over West Indies on November 6.
Out of form, Australian left-hand opener Warner played very well against West Indies as he smashed an unbeaten 89 off 56 balls on Saturday.
Warner said the wickets that have been produced here were very nice.
"Look, I won't say the team was out of form. I think you have to look back and look at the wickets that they played on,"

Warner said after the eight-wicket win over the defending champions. 
"To be fair, New Zealand went to Bangladesh and played on those kinds of wickets. And it's very difficult where teams are not getting more than a hundred for both teams, it's going to be a challenge for anyone.
"So for us, we come out here, the wickets that have been produced here have been outstanding and the curators have done an amazing job over the last 14 weeks to host IPL and this World Cup. We are seeing a very nice batting wicket that was out there today, and I think after the last game as well, playing in Dubai, the wickets are becoming very, very nice and very true."
At one moment, Australia's position in group 1 to qualify for the semi-final was dependent on England.
South Africa and Australia also have 8,8 points in the group but Australia was looking at the match between England and South Africa where the run rate decided who will qualify for the semi-final.
South Africa had set a total 189 score and if South Africa had stopped them before the 131 runs then they would have qualified for the semi-final.
Warner & Co though have been able to put that defeat behind them, gamboling home to big wins of their own against the two teams they lost series to most recently.
"Yeah, look, obviously a very toss-dependent game with that wicket,"

Warner said of the England game. 
"They bowl extremely well and know that they come hard in that power play and they have always had great success. From our point of view, it's good to get one of those games out of the way because sometimes it happens in tournament play.
"Sometimes you do get hurt and you get hurt badly. And that's what happened to us. For us, it's going and just doing what we normally do. You have to forget very fast about that, keep backing your game plan and putting your best foot forward and we have done that."
Australia will now face Pakistan in the semi-final who is the only unbeaten team in the tournament and Warner believes that the team has worked very hard before this big clash.
"I think, all in all, I think we are hitting the momentum in the right stage of this tournament. As the gentleman here said, he said that Pakistan is like dragons; they are going well. But at the end of the day, you know, you've got to stay up and about, and that's what we are going to be trying to do, obviously if we make it through watching this game closely [South Africa v England] tonight.