Wade is still our first-choice wicketkeeper in our T20 team – George Bailey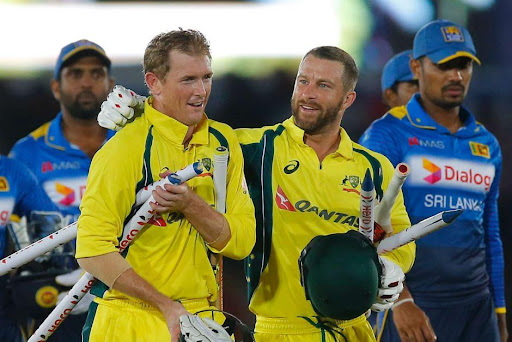 Matthew Wade was instrumental both with bat and ball during the T20 World Cup 2021
Australia's Chairman of Selectors, George Bailey insisted that Matthew Wade will still be Australia's first-choice wicketkeeper in the T20Is. Bailey said when Wade was extracted from the list of CA contracts for the 2022-23 season.
George Bailey, Australia's Chairman of Selectors has taken Matthew Wade in confidence by calling him Australia's first-choice wicketkeeper in the T20Is.
Bailey talked about the matter after Wade got excluded from the list of CA contracts for the season 2022-23 when the 27-year-old Josh Inglis was preferred over him.
Inglis made his International debut for Australia back in February, in a T20I match against Sri Lanka at the SCG. He also took the responsibilities behind the stumps in a single T20I against Pakistan that Wade didn't manage to come to.
Keeping that in mind, Bailey's statement on Wade adds much weight for the 34-year-old who will be expecting to take the duties in the upcoming T20 World later this year.
"They're all guys that we fully expect will play for Australia in the near future,"

Bailey said of Wade and others who missed out on a CA contract.
"In all likelihood, they'll all be picked probably in our next touring party. Wadey is still our first-choice wicketkeeper in our T20 team and [there's] a big build-up coming up to that World Cup. And a little bit the same with Kane (Richardson) with that T20 World Cup coming up as well.
"Josh has obviously done really well in the opportunities that he's had. He's clearly our keeper-in-waiting, I guess, behind Alex in the Test and one-day formats. And he's the keeper-in-waiting behind Wadey in the T20 format. He's going to be a huge part of every tour that we go on. We're investing as much in the future with him as we are looking at what's happened in the past 12 months."
Bailey had also been talking about the T20I skipper Aaron Finch who is not having a good time in the playing X1 recently. He only managed to add a half-century in the lone T20I against Pakistan in Lahore but his numbers in the previous months do not add much.
"Not relieved. Always know it's coming with Finch,"

Bailey said.
"He's said it himself that he'd have liked to have contributed more… he'd like to be scoring more runs.
"We have so much cricket from now until that T20 World Cup and the build-up to the one-day World Cup that he's got a great opportunity, and probably now a little bit of time to focus on a couple of little technical things that he wants to work on, which is great. The leadership he provides, the way that he's been building the T20 team and the one-day team… we're starting to get some good buy-in to the way we want to play, on the back of the way the squad played in that T20 World Cup.
"I'm confident Finchy will come good and be firing in the lead up to and including the World Cup."