The gravity-defying insane fielding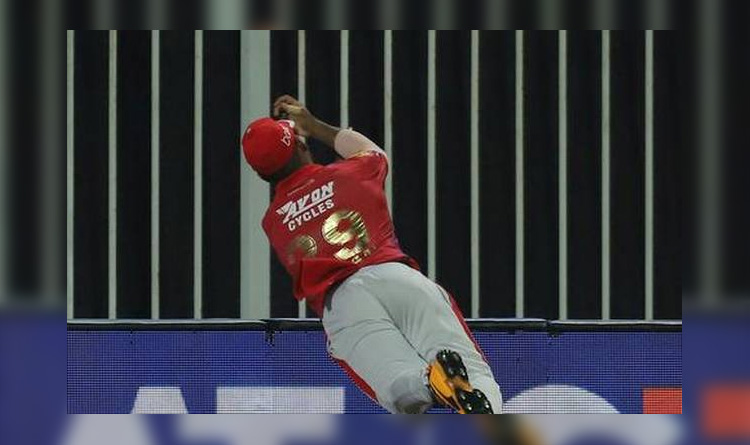 Kings XI Punjab/Twitter
The thriller RR vs. KXIP match on September 27 broke many records, was a six-hitting fest. It witnessed some spectacular moments—one of which was Nicholas Pooran's gravity-defying fielding to save a six against RR.
The 24-year-old pulled off a best bit of fielding in the history of the IPL, and managed to save a miraculous six smashed by the talented batsman Sanju Samson of Rajasthan Royals. The incident happened in the 8th over of the innings, when the KXIP's young player Nicholas Pooran leaped mid-air, a round 6.5 feet inside the boundary, to catch the ball, and in a split second threw it back inside the field before his body touched the ground.
The effort left everyone dumbstruck, including the on-air commentators Kevin Pietersen and Michel Slater. Pietersen termed it the best fielding ever in the IPL, while Slater, more impressed by the Caribbean prodigy announced it to be the best ever fielding effort he has ever seen.
The acrobatic catch earned respect of mostly everyone in the cricketing fraternity, including KXIP coach Jonty Rhodes, who gave him a standing ovation. Apart from Pietersen, Slater, and Rhodes, many cricket hard-liners like Sachin Tendulkar, Virender Sehwag, and Shane Warne, who all took to social media to praise the heroic fielding efforts of the left-hander batsman.
This gave Twitterati a chance to appreciate the player as they took to social media lauding Nicholas Pooran over his fielding and for saving four runs for his team. The platform was flooded by various reactions and memes as well.
Now, Kings XI Punjab fans have high hopes from the team, provided the level of fielding remains constant for the rest of the tournament, as the team now prepares for a clash next against the IPL Champions Mumbai Indians.