Shreyas Iyer determined to work hard against short ball tactics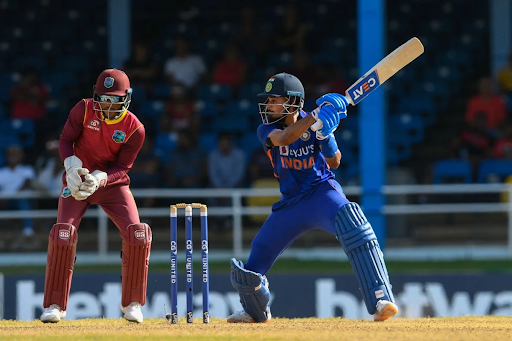 Shreyas Iyer has hit a fifty each in both the ODIs played against the West Indies so far
India's middle-order batsman Shreyas Iyer may have been on the hit-list of fast bowlers across formats due to his shortcomings against the short ball but the right-handed batsman is determined to use all that he has at his perusal — training and preparations off the field which also includes long discussions and work in the nets with India head coach Rahul Dravid and batting coach Vikram Rathour — to come out strong. 
After a disappointing England tour in which Shreyas Iyer failed to get runs, including in the one-off fifth and final Test in which he fell against short balls in both the innings, he has bounced back remarkably well in the ongoing ODI series against the West Indies.
India have sealed the three-match ODI series by winning both the two games played so far in thrilling finishes, with Shreyas Iyer scoring vital half-centuries to keep his position in the team by contributing heavily.
In the first game, Shreyas Iyer scored a fluent 54 before a sharp catch led to his dismissal while in the second, he scored second-highest 63 and added 99 runs with Sanju Samson to keep his side on track of what turned out to be one of their most memorable wins in the ODI format against the Caribbean side.
"Making half-centuries, I'm fortunate to have got those, but I have to convert it to a hundred. You don't often get these chances in international cricket. Today was a great chance, I felt. In the previous match, I was out to a good catch. I won't say I threw my wicket away there. But as long as the team wins and you contribute, you feel good,"

said Shreyas Iyer after India's 2-wicket win with 2 balls to spare in the second ODI at Trinidad. 
The 27-year-old revealed that he has been working hard in the background with India's coaches.
"I have been working with them [Dravid and Rathour] for many years. We talk technique and temperament on a match-to-match basis. Situations change. When we have team meetings, everyone talks. We don't come to a conclusion but learn from each other's views. It's a good conversation between us. Rahul sir has been supportive throughout, he doesn't put much pressure on the mind."
Talking about the difficulties that the Mumbai batsman has had to face against short ball attack, Shreyas Iyer said,
"Obviously, whatever hard work you do has to be off the field. What you see here is only the reward. I love working hard. I've been working very hard lately. The wickets and conditions change, matches keep coming back to back. You have to be fit, you have to motivate yourself. My mindset is that I will control the controllable, only then I can execute."