Ross Taylor ended his Test career with a wicket against Bangladesh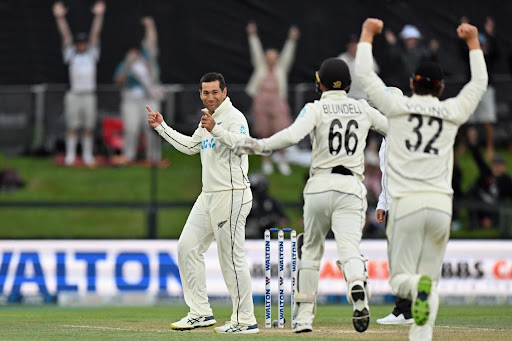 ICC/ Twitter
Ross Taylor ended his test career by taking the wicket of the Ebadot Hossain while New Zealand wins the second test match with an innings and 117 runs against Bangladesh.
New Zealand wins the second test game with an innings and 117 runs against Bangladesh but it turned out to be a fitting farewell for one of New Zealand's batters, Ross Taylor. He ended his career by taking the last wicket of the Ebadot Hossain.
Tom Latham New Zealand skipper who took the catch of Ebadot Hossain noted that the rest of his teammates and even the crowd were pushing him to give the ball to Taylor.
Latham also expressed that the decision to give the ball to Taylor was quite easier by the fact that the umpire told him that they won't allow the pacers to bowl in the dim light.
"I was getting pressure from the crowd and also the boys to bowl (Ross Taylor), but the umpires played their part as well. It was very dark out there. They said we couldn't bowl the seamers. I guess that left one decision… to bowl Ross. It couldn't be scripted any better.
"Everyone wanted me to take that catch. It was pretty special to sign off the Test match like that. Ross has been amazing for New Zealand cricket for 17 years. We are looking forward to celebrating with his family tonight.
"His (Taylor) calm nature, the fact that he has scored runs in all parts of the world, to learn from him how he goes about things, how he approaches different bowlers… he has had a significant impact on us as a group, and also New Zealand cricket. He inspired generations. He inspired me to play cricket. He is someone I always look up to,"

he added.
Latham also backed his bowling unit for outstanding performance. The four pacers in the Black Caps squads include Tim Southee, Trent Boult, Kyle Jamieson, and Neil Wagner.
"I thought we bowled well in partnerships and being patient at both the ends. We kept them under pressure for a long time. You can score quickly on this surface. The way we found different ways to get guys out, was the most pleasing thing.
"The best thing about this bowling unit is that they always want the ball in hand. They are always willing to bowl another over. It was no different today. I am certainly happy to have all these guys on our side,"

he said.
Latham was happy he made a double ton in the first innings of the match and New Zealand wins the match by an innings and 117 runs. Latham and Devon Conway build a great partnership and make it easy for New Zealand to stay strong in the match.
"After being put in to bat in the morning, when we definitely would have bowled, to make that significant contribution at that point of time was good for us. We were focusing on each partnership. Will Young and Devon Conway played well. We spoke about doing things for longer than what we did at the Mount and I thought we did that well.
"As we have seen here, you can score quickly due to more pace and bounce. It wasn't a conscious effort to go after the short ball, but it certainly happened a little bit naturally. Perhaps I was able to execute (more shots) down the ground and through the off-side. The rate that I scored at was probably most pleasing, being able to put them under pressure,"

he noted.