Rain washes out second day's play at Jamaica of Pakistan, West Indies Test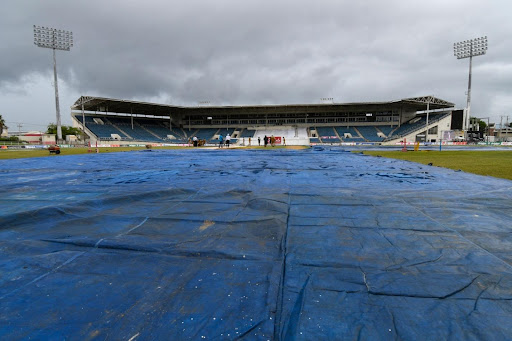 ICC/ Twitter
Not a single ball was bowled as a result of wet outfield due to heavy rain at Jamaica on day 2 of the second Test between Pakistan and West Indies on Saturday. Pakistan was 212/4 at the end of day 1 stumps.
The rain started way before the match had scheduled to start which forced the umpires to call for an early lunch break. After the weather got clearer during the break, the wet outfield kept the groundsmen busy to restrict players in their dressing room.
The officials went for a couple of inspections on the ground and just when it looked like the start of the session, rain come again and the covers were back in place.
A heavy spell of rain and consistent drizzling made it difficult for the groundsmen to cover plenty of puddles in the ground.
Meanwhile, the players kept themselves busy at indoor cricket and footvolley after an early tea was called. The rain stopped again and groundsmen started their work to cover the wet patches with sponges.
The umpires went to both camps for further inspections and eventually the wet outfield and large patch for the bowler's run-up forced the umpires to call off the play.
On day 1, Pakistan lost the toss and was asked to bat first. Kemar Roach and Jayden Seales went through the visitor's top order who fell in attempts of playing the deliveries outside off, Pakistan on 2/3.
A brilliant partnership of 158 between Babar Azam and Fawad Alam recovered their team from that position with both batsmen progressing well in the game.
In the last session, Fawad surrendered to the hot conditions in Jamaica after he struggled with his cramps and ultimately left the field.
Just after his partner left, Babar fell to Jason Holder at second slip but Pakistan remained four down at stumps after Mohammad Rizwan and Faheem Ashraf put an unbeaten 44 runs stand.
Good news came at the end by Pakistan that Fawad is fit and ready to resume at the fall of the wicket but unfortunately the play could not resume.
Pakistan will be looking to score faster to test the mettle of their opponents in batting as there are only 3 days of play left.
Brief Scores: Pakistan 212/4 (Babar Azam 75, Fawad Alam 76*; Kemar Roach 3-49) vs West Indies.
Also read about: Waqar Younis talks about the reason of loss in 1st Test