Quarantine issues raised doubt over Bangladesh-new Zealand test series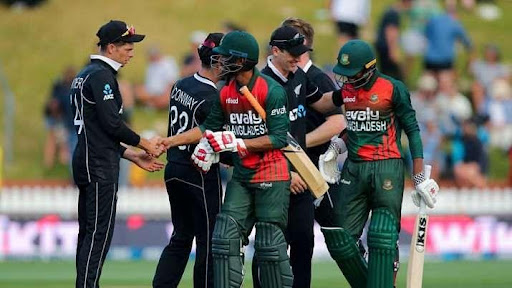 Bangladesh and New Zealand players shaking hand after a T20 match
There were some doubts for Bangladesh and New Zealand test series due to some covid-19 issues while the BCB president Nazmul Hassan had an impromptu meeting on December 18 to discuss the whole issue.
Doubts have been raised over Bangladesh's two-match test series against Black Caps due to quarantine issues. Rangana Herath tested Covid-19 positive and the trip was asked not to do any practicing until 21 December and was quarantined again.
Cricbuzz understands that if the visitors are asked to stay in quarantine after December 21, then the series can be rescheduled. The officials from both boards will sit to discuss their next step.
Bangladesh Cricket Board president Nazmul Hassan on Saturday called an impromptu meeting with his colleagues to discuss the situation.
"Our cricketers are mentally and physically exhausted due to non-stop bio-bubble and some of our cricketers were thinking of returning home skipping the series but that is not possible",

BCB president Nazmul Hasan told reporters.
"If the quarantine is again extended after December 21 then we will sit with them.
"We have informed them that it is difficult for us to play without sufficient preparation,"

Nazmul said, pointing out the postponement of the intra-squad two-day practice game, scheduled on December 22-23.
Aside from Herath, eight other members of the squad and staff members are in isolation because they were traveling with some Covid-19 persons from Malaysia to New Zealand. The other players and staff were doing some practice on December 16 after done their quarantine period but were later asked to stop their practice sessions.
The positive passenger on the plane was found to be infected by the Omicron Variant and that caused the government to ask the visitors to go back to MIQ (Manage Isolation and Quarantine).
The opening game will be played on January 1 at the Bay Oval in Tauranga while the second and final game will be played on January 8 at the Hagley Oval, Christchurch.