Playing with Warne is one of the highlights of my career, says Rahul Dravid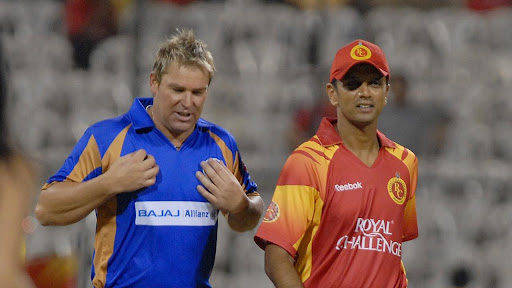 Rahul Dravid paid tribute to Shane Warne after his death
Former Australia cricketer Shane Warne has died at the age of 52-years, due to a suspected heart attack while team India head coach Rahul Dravid paid tribute to Shane Warne after his death.
Former India player and Team India head coach Rahul Dravid on Saturday paid tribute to Shane Warne after the Australian legend player died at the age of 52. The legend passed away in Koh Samui, Thailand, of a suspected heart attack.
According to Reuters, Thai police said Warne and other three friends were staying in a private villa and one of them went to inquire about him after the legend did not turn up for dinner.
Earlier on Friday, Rodney Marsh had also died. Dravid also condoled the unfortunate demise of Australian legendary wicket-keeper Rodney Marsh and spin bowling legend, Shane Warne, calling it a deep loss.
"Really sad day for the game of cricket to lose two legends in two days the people who I think truly made the game what it is, who truly loved the game. It is indeed a deep loss. Our thoughts are with the family and all their friends. May their souls rest in peace. I did not know Rod that well met him a few times but grew up watching lots of Rodney Marsh and hearing a lot about him,"

said Rahul Dravid in a video on BCCI's Twitter account.
"I had the privilege and I think an honor to be able to compete and play against Shane Warne. But more importantly the privilege of getting to know him personally and playing with him alongside as a colleague. I think that probably will be one of the highlights of my cricketing career. Just to get to know him a lot will be spoken about him as a great cricketer and we all know about that.
"I think what will remain for me will be the memories of the friendship, of the time that we spent together off the field and just the ability to connect this is great about Shane Warne even you did not meet him very often he could make it feel like this was personal. It feels like a personal loss, you know it's something that hurts. It's sad and I think that as long as the game is being played, I think someone like Shane Warne and Rodney Marsh will always be remembered,"

he added.
Shane Warne was the second-highest wicket-taker in the history of test cricket, behind Muttiah Muralitharan, with 708 wickets to his name.
He had played 194 One Day Internationals for Australia in which he took 293 wickets. He has scored 3154 runs in his Test career and 1018 runs in the 50-over format.
He guided Australia to win the World Cup in 1999 and took more wickets than any other bowlers in Ashes cricket, the tally standing at 195.
In 2013, he was enrolled in the ICC Hall of the Fame.