Pakistan Cricketers mentally and physically upset by NZC strict Coronavirus isolation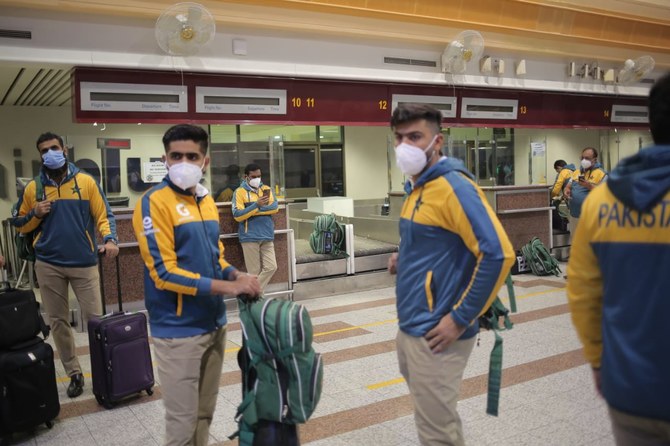 Arab News PK
Early in their stay, several team members were caught mingling together at their four-star quarantine hotel in Christchurch, in breach of the managed isolation rules.
"Additionally, the member of the squad who was taken into quarantine in Auckland after arriving from Dubai feeling unwell but subsequently testing negative has also been cleared to leave the facility,"

NZC said in a statement.
All overseas arrival to New Zealand must spend two weeks in quarantine with a sports team that return negative test after three days granted permission to train together in isolation.
Pakistan's jumbo contingent of 44 players has all tested negative for Covid-19 during the fifth and final round of testing on Sunday. To allow them to start training, subject to final clearance from New Zealand's Ministry of Health.
Pakistan was to start training in New Zealand on December 5 but was sent into extended quarantine after six members returned positive tests upon arrival. Several players found mingling in groups at their isolation facility. Wasim khan, the PCB CEO, had spoken to the players, asking them to refrain from such acts that could put the tour in jeopardy.
On Monday, Head coach Misbah ul Haq praised his players for making sacrifices, while also stating how spending time in isolation without being given the concession to train was both mentally and physically draining.
Pakistan had their exemption from training revoked last week after eight members of the squad tested positive during their stay in isolation.
Green shirts, after getting approval, are to head to Queenstown for intrasquad warmup matches before the Twenty20 series starts on December 18.
The team will leave on Tuesday after regrouping at a hotel in Christchurch. However, the squad will leave behind one member who will join them in Queenstown on Thursday after completing his managed isolation period.
The New Zealand authorities have taken a very dim view of it, according to Dr Ashley Bloomfield, the country's director-general of health. They said that the Pakistan visitors indulged in mixing in hallways, sharing food, and not wearing masks at all time clear breach of the isolation protocols. The squads training privileges were also revoked, pending an assessment by health officials. The host's government gave them a final warning that any more breaches will result in the tour getting cancelled.
PCB said some of the players who had complained of fever while playing the domestic tournament in Pakistan turned out to be positive when they reached Christchurch.
According to the source, Wasim at one stage asked Babar and Misbah whether the players felt the tour should be called off in the given conditions.
But Babar and Misbah both told Wasim that while players were disappointed at still not getting clearance to start training in isolation but they believed that the series must go on after already spending so much time in quarantine/isolation, the source said.
New Zealand cricket said the negative tests meant the touring party would be allowed to leave isolation on Tuesday, pending health department approval, to prepare for their first Twenty20 match against the Blackcaps on December 18.