New Zealand to bring in Matt Henry as Finn Allen's replacement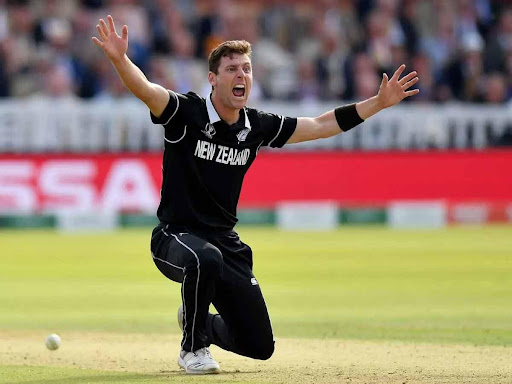 TOI Sports/Twitter
New Zealand cricket on Friday announced Matt Henry as the replacement of Finn Allen for their T20 series against Bangladesh.
New Zealand Right-arm pacer, Matt Henry has been selected as the replacement for Finn Allen, for the upcoming T20 series against Bangladesh.
Finn Allen is recovering from the Covid-19 virus on his arrival in Dhaka. Allen will remain with the team and he will be continuously monitored by the team doctor, Pat McHugh.
Henry was initially selected to play the white ball series in Pakistan but he will now leave New Zealand for Bangladesh on Monday.
"Matt's not a like-for-like replacement for Finn, but he expands our selection options and, in the current circumstances, is the best equipped to join the side at such short notice,"

said head coach Gary Stead.
The decision to send Henry with the certainty that he has been vaccinated with both doses of Covid-19 and has already been assigned a MIQ bed for his return.
New Zealand coach Gary Stead said he didn't consider players currently in the UK due to the seven-day isolation period they would face on arrival in Dhaka.
He further said that Allen had improved in recent days and there remained hope that he could be available for the later matches against Bangladesh.
The T20 series against Bangladesh will be started on September 1. New Zealand wicket-keeper batsmen, Tom Latham will guide the team in the absence of skipper, Kane Williamson.
"And, in the current environment, we remain mindful of the need to carefully balance player workloads,"

he said. 
"We're not prepared to risk anyone's well-being by asking them to commit to extremely long periods away from home."
Henry expressed his excitement about playing in Bangladesh for the first time. "I haven't been to Bangladesh. It is my first time there,"

he said. 
"I have played in India and UAE. I have experience in sub-continent conditions so I am going there with a lot of confidence. There were a lot of low-scoring games in the last series there, so looking forward to the challenge. I played domestic T20 cricket last season, so I will fall back on that experience."
Do not miss about: New Zealand tour of Pakistan in trouble