NCOC allows 100 percent of spectators in the historic Test series between Pakistan and Australia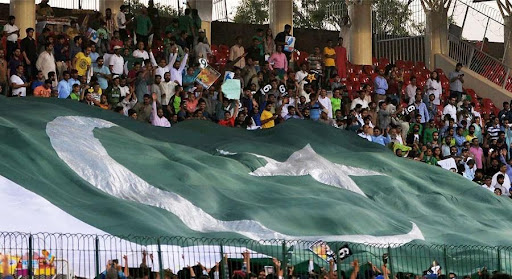 Children 12-years of age or above 12 with a full vaccination are allowed to enter the stadium with Covid-19 SOPs
National Command and Control Center (NCOC) announced that 100 percent crowd will be allowed in the historic test series against Australia, which is scheduled to begin from March 4.
National Command and Control Centre (NCOC) announced the great news for national fans that they are allowed 100 percent capacity for the upcoming historic test series against Australia in Rawalpindi, Karachi, and Lahore, which will begin from March 4.
In a letter sent to the Pakistan Cricket Board (PCB) and relevant authorities of Sindh and Punjab, NCOC expressed that the cricket Board is allowed to host full capacity crowd while adhering to the following protocols.
Spectators who are 12 years of age or above with the fully vaccinated are allowed to enter the stadium with the Covid-19 SOP. Meanwhile, the children below 12 years of age are also allowed to enter the stadium without vaccination.
Covid-19 vaccination is a must for the spectators while all other SOP must be followed. Wearing masks in the stadium and maintaining social distance, enforcing NCOC guidelines will be the responsibility of PCBs and rational bodies.
The last time Pakistan had an ICC event on its soil was when it co-hosted with India and Sri Lanka in 1996. The terrorist attack happened in 2009 at the Sri Lanka cricket team bus in Lahore and after that, no one come to tour Pakistan till 2019.
Last year, New Zealand had withdrawn its tour of Pakistan just before the toss of the match by citing security issues. Then, the England tour was also scheduled after the Black Caps visit but they had also pulled out the tour of Pakistan.
It must be noted that Australia will play three Tests, three ODIs, and a T20I against Pakistan. Rawalpindi will host the first historic test match while Karachi and Lahore will also host the second and third test game respectively. The white-ball series will be played in Rawalpindi from March 29 to April 5.
The Last time Australia visited Pakistan was in 1998, under Mark Taylor's captaincy.
Now, Pakistan will have a busy schedule in the upcoming years because they will host the team Australia, New Zealand, and England in the time from March 2022 to April 2023.
Schedule:
| | | |
| --- | --- | --- |
| DATE | MATCH | VENUE |
| 4-8 March | 1st Test | Rawalpindi |
| 12-16 March | 2nd Test | Karachi |
| 21-25 March | 3rd Test | Lahore |
| 29 March | 1st ODI | Rawalpindi |
| 31 March | 2nd ODI | Rawalpindi |
| 2 April | 3rd ODI | Rawalpindi |
| 5 April | one-off T20I | Rawalpindi |
| | | |