Inzamam-ul-Haq praises Kiwi's batter but says India should have won the Kanpur test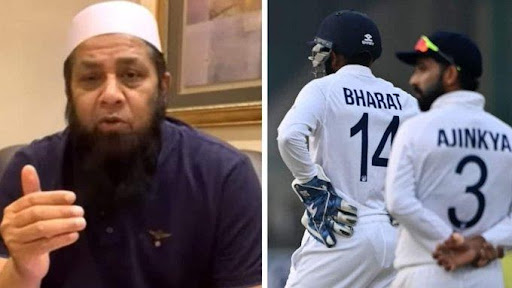 HT Sports/ Twitter
Inzamam-ul-Haq lauded New Zealand batters for playing responsible innings on Day 5 and didn't make it easy for India to steal the match while former Pakistani captain added India should have won inside two sessions.
Former Pakistan skipper Inzamam-ul-Haq attributed Kiwi's batter for playing very well on day 5 to save the test game by staying on the pitch and not losing it.
He added that India should have closed out the match in the first two sessions on Monday. India had already taken 9 wickets and just 1 wicket behind the victory.
Black Cap's last wicket partnership between Rachin Ravindra and Ijaz Patel didn't make it easy for India to steal the match.
Inzamam said India was a tad unlucky but they would be disappointed for not bowling out on the fifth-day track with three spinners-Ravindra Jadeja, Ravichandran Ashwin, and Axaar Patel on their side.
"India would be disappointed. I didn't think New Zealand would have bat through Day 5 against this Indian bowling attack. India should have bowled them out. Jadeja bowled well for his four wickets but I expected a lot more from all of them.
"I truly believe that the match should have finished within the first two sessions. I had said this after Day 4 also that this match should end in the first two sessions of the final day,"

Inzamam said on his YouTube channel. 
The former Pakistan player who also worked as a chief selector in the PCB said chasing the 284 runs target was never an option for New Zealand.
"Not sure whether we should give credit to New Zealand or call India unlucky. It was clear even yesterday that New Zealand cannot win the match because they wouldn't have been able to chase down the score (of 284). However, I anticipated that there would be some wear and tear on the fifth day and that the likes of [Ravindra] Jadeja and [Axar] Patel would not let the batsmen play because the ball would spin but that didn't happen,"

he added.
Inzamam lauded the New Zealand batters for playing such responsible innings by staying on the pitch.
"I feel New Zealand should be given credit for batting through the day on this pitch. New Zealand bated as a team. Whoever came in to bat in the middle, put a price tag on his wicket. Their mindset was clear. They wanted to bat time,"

Inzamam said.
Both teams will meet for their next and final test match on December 3 in Mumbai.