India vs England 1st Test Preview: Virat Kohli's team eyes winning start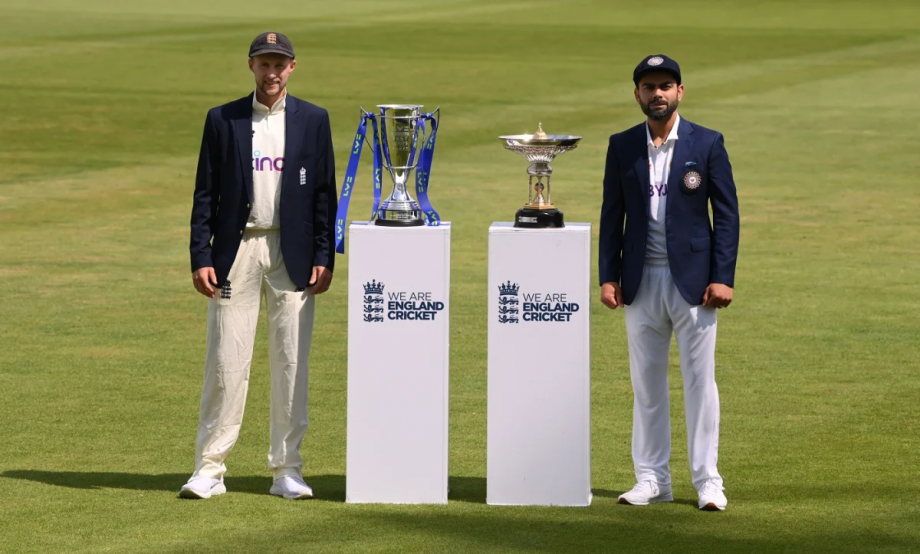 England captain Joe Root (left) and Virat Kohli pose with the trophies on offer in this series
The Indian cricket team will draw inspiration from their historic achievement in Australia followed by a dominating home series win over England, combined with their own victory at Trent Bridge in Nottingham during the 2018 tour, when they take on England in the first of the five-match Test series starting on Wednesday. 
It will be important for both India and England to make a positive start to this Test series, since it marks the beginning of the ICC World Test Championship 2021-23. While India went on to play the final of the first edition of the global Test event, the English side was not even in contention for a place in the final.
Both the teams have lost some of their firepower in the build-up to this series, more so in the case of the home team. While India will be missing the presence and services of their Australia tour heroes Washington Sundar and Shubman Gill, England will be without their star players in Jofra Archer, Chris Woakes and Ben Stokes. While Archer and Woakes are out of action due to injuries, Stokes has pulled out of the entire series citing mental health issues.
India will be wary of the firepower, nevertheless, that England have in their ranks. Joe Root and his band of young batsmen will be up for a challenge and questions thrown at them by the Indian bowlers. But the real battle perhaps will be between the visiting team's batsmen and the superb pace attack that England have at their disposal.
James Anderson is all set for what could be his last outing for England against India, but at the age of 38 the right-arm fast bowler has shown no signs of slowing down or starting thinking about life after cricket. In Stuart Broad and Mark Wood, England have a strong bowling attack with the new ball as well as the old, and combined with a choice in spin bowling — one between Jack Leach and Dom Bess — makes this attack look extremely dangerous.
India will hope that their batsmen do not let them down as they did, terribly, in the final of the WTC two months ago against New Zealand. Instead, the team management and its army of fans would want the batsmen to show up well particularly because of the fact that this Indian team has been in England since June 2.
India have lost all of their last three series by heavy margins and this time, against an inexperienced and fragile English batting attack, they are expected to do well. But India captain Virat Kohli has warned the team against any sort of complacency, given that his team has plenty of flaws too especially against when the ball is moving around.
Kohli dismissed the notion in his press conference on Tuesday that the Indian team has the best chance to win against this English side.
"I have never really played for any kind of landmark or milestones in my career. Every game in international cricket has been an opportunity for me to test myself and my character and how mentally strong I am and how much skill level I have to be able to sustain at this level for a long period of time. And things are going to be no different this series as well — we are going to play with the same passion, same commitment, same belief that we play every series with,"

he said.