He will come back in and I expect him to perform – Joe Root on Buttler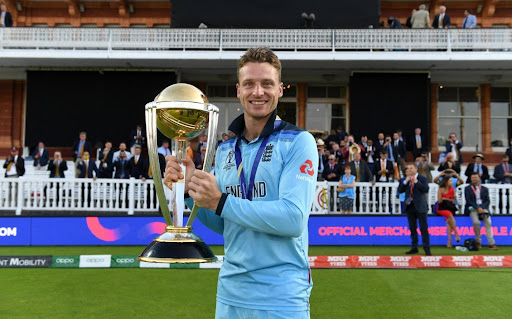 Cricbuzz/Twitter
Joe Root said on Wednesday that England wicket-keeper batsman, Jos Buttler will be back for the final test in the five-match Test series against India.
England skipper, Joe Root has confirmed that Jos Buttler will come back to England's team for the final test against India at Old Trafford.
He said that Moeen Ali will be their first-choice spinner while Jack Leach has been recalled for the match but he will play if the condition encourages two spinners.
Buttler missed the fourth test to be at the birth of his second child but is ready to come back into the team for the fifth Test in Manchester.
England skipper confirmed that Buttler, England's vice-captain in Test cricket, would get back his duties from Jonny Bairstow who took the gloves in his absence.
It means that England will have to drop out whether Bairstow or Ollie Pope, who made a half-century in the first innings at the Oval, to fill the number five position.
"He is the vice-captain of this team,"

Root said of Buttler. 
"He is a senior player and he is integral to what we are about. I know his output in terms of runs in this series has not been as high as he would like or as we would like but we know what a great player he is and how important he can be to turning a Test match and that is the reason behind it.
"I think Jonny knew exactly what the scenario was when he was given that opportunity to keep wicket last week. Whenever there is change within Test https://parimatchnews.com/cricket/, people are left out or moved around, it is part and parcel of playing at the highest level. He has been a big part of what we have been about as a squad for a long time now and will understand it. So as I say Jos is the vice-captain, he will come back in and I expect him to perform."
Ollie Pope came into the team for the fourth test in the place of Buttler and top-scored 81 runs in the first innings, leaving Bairstow placed at risk once again.
Also, Bairstow failed with the bat and his numbers are even less impressive. That means a straight fight between Bairstow and Pope for the final batting slot.
On the other side, Root confirmed that Moeen is still England's number one spinner and that Leach's root into the side would require the home side to play two slow bowlers.
"I'd say that Moeen Ali is our first spinner, yes,"

Root said.
"I've not seen the pitch as yet but what you can get sometimes here at Old Trafford, it can spin and that can be an option we have to look at with two spinners. He [Leach] has done some fine things for England, you look at how he has performed this winter and even before that as well. We all know what he is capable of and we know he is a fine player. I am sure that in himself should give him a huge amount of confidence."
Root was unable to confirm whether James Anderson or Ollie Robinson would play the last test. Both have bowled the most over on either side of the series and the England management will be guided by medical advice.
 "That's something we will weigh up over the next couple of days,"

Root said. 
These two days are really important for recovery and to make sure that they are in a position to play the test.
"One thing you have to do is trust the medical advice that's been given, speak to the guys that understand the science behind this. Also, speak to the players as well know their bodies better than anyone else. You never want to go into a Test match playing someone at risk of injury. You want to do the best thing for the player but also you don't want to go into a Test match and someone goes down injured and you have got one less bowler at your disposal."
"There are several things to factor in and of course we will make sure we are very confident that everyone is fit to take the field and to put in a Test worthy performance when it comes round to selecting the team for this game,"

Root concluded.
India has won the fourth Test match with dominance to lead the series by 2-1. The final Test will be played at Old Trafford on September 10. England will be looking to square off the series.
Also read: A shocking news for Pakistan fans before World Cup