Hardik Pandya tells Virat Kohli: I would have taken a bullet for you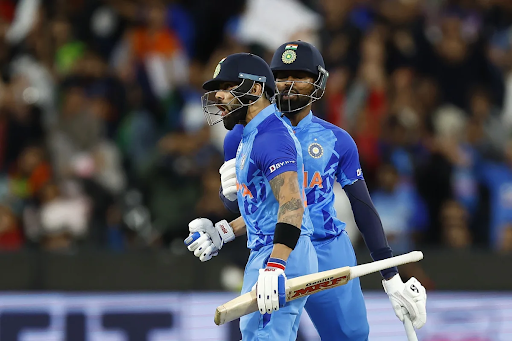 Hardik Pandya (background) and Virat Kohli powered India's win over Pakistan in the ICC T20 World Cup 2022 opener
India all-rounder Hardik Pandya has revealed that he wanted his partnership with Virat Kohli in the ICC T20 World Cup 2022 opening match in Melbourne against Pakistan to last long at any cost, even if he had to take a bullet for his batting partner. Virat Kohli went down to play the best innings of his T20I career, stroking his way to 82 not out from 53 balls to help India win by four wickets in a thrilling finish on Sunday night. 
Hardik Pandya scored 40 from 37 balls while adding 113 runs for the fifth wicket from just 78 balls in the company of Virat Kohli as the two Indian batsmen turned the tables drastically on Pakistan, helping India recover from 31/4 after eight overs to record a huge morale boosting win against their arch-rivals.
"I would have taken a bullet for you at that point of time, but I would not have let you get out,"

Hardik Pandya told Virat Kohli in an exclusive video released by the Board of Control for Cricket in India (BCCI). 
"My goal was simple, and whatever I can do to make your life easier, I'll do it. You have done it so many times and no one is better at handling pressure than you,"

Hardik Pandya said. 
The contest turned in favour of India when Virat Kohli, with India needing a humongous 28 runs off the last 8 balls, smacked two sensational sixes off Haris Rauf to bring the equation down to 16 needed off the final over.
The shots played by Virat Kohli — the first over the bowler's head and down the ground while the other on the leg-side with a gentle flick of wrists — were simply the pinnacle of a batsman in his prime.
"Those two shots played by Virat Kohli, just because I know how important those two shots were, if you had missed even (one) shot, still they were running ahead with the game,"

said Hardik Pandya.
The Indian all-rounder admitted that the camp in the dugout was tense with the team struggling at 31/4 at one stage chasing 160. Hardik Pandya said,
"I sensed a lot of pressure in the group. With all due respect, a lot of people in big games [feel pressure] and [know] how important it is. We all have worked every hard as a collective, and people are happy for each other.
"But for me, I don't know, I was very numb today. Even when I came on the ground, I was very happy and I was speaking to Rahul [Dravid] sir as well initially, I wouldn't say he was tense but he told me: 'you have done a lot of things', and 'be calm' and all that. I had to tell him: 'sir, please understand I'm happy to be here. Ten months back, I was working in my space and I had no idea and this is where I wanted to be, irrelevant of what happens. Just happy to be here, playing with all the best cricketers in the world, and they are my brothers,"

Hardik Pandya said.