Felt it was good enough wicket to be able to chase any score – Chris Woakes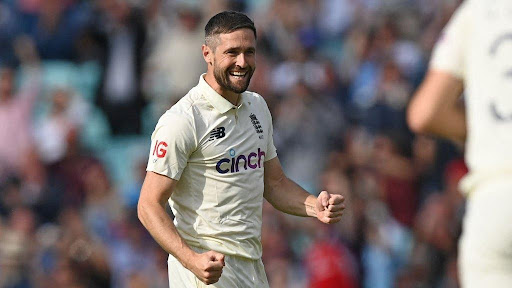 Wisden/Twitter
Chris Woakes on Sunday said his team can chase the target and can create history on the final day by chasing the target.
England All-rounder Chris Woakes feels the pitch is still good enough to bat and the team has a good chance of winning the test. England was set 368 to win, a total they have never successfully chased in the last innings. England still needs 291 runs more to win and will resume on the final day 77 without any loss. Woakes felt the team had the belief and the skill to pull off a "great, great chase."
No other team has ever scored more than 263 in the fourth innings on this ground to win a test match, Woakes believed England could do it on this pitch. England has all ten wickets in hand into the final day of an absorbing test match. He further said we have to take one over at a time and slowly achieve the target by not getting too ahead in the game.
"We felt like it was a good enough wicket to be able to chase any score,"

Woakes said.
"To go all the way and chase down that score would be an incredible effort. It would be a great, great chase.
"But our openers have done a great job and put us in a good position to start on the final day. To get another 291 on a day-five pitch always sounds like a tough ask but we've got to keep reminding ourselves that this pitch is still good for batting and we can do it if we bat well down.
"We just have to tick it off slowly. We won't get too far ahead of ourselves. I hear that it'll be a full house here at The Oval, so the atmosphere will be great. And that's where you want to be as a player. I watched the first three Tests of this series at home and was desperate to be a part of it, so I'm absolutely buzzing to be here, and hopefully, we have an opportunity to win tomorrow."
England's highest successful chase of 362 to defeat Australia in the Ashes at Headingley, when Ben Stokes outstanding inning help England for a thrilling one-wicket win. Last year, Woakes himself was to the ahead as they chase down 277 against Pakistan at Old Trafford.
"That game was a very different scenario to what we have here,"

said Woakes, who finished unbeaten on 84 as England won by three wickets in Manchester.
"But I think this pitch is probably better than that one.
"But at the same time, you know every chase is different. You need guys to get themselves in and create big partnerships and that puts pressure on the opposition from a bowling point of view. We've been in this position many times as a side and when you're bowling, you're under pressure to take wickets. Each run is chipping away at the opposition. The longer you can get guys batting together and create a partnership that makes it more difficult for the opposition.
"This team has done some special things over the last few years in different formats. These are the times you want to be part of it. We're trying to do something special. It's a great place to be.
"There's a lot of hard work still to be done but you can draw on those experiences. You can look back on what we've done in the past and what we're capable of as a team. A lot of time it's just about believing you can do that and then going out and executing it. Everyone will agree with the fact that we can go on and get the runs; there'll be no doubt about that."