Bavuma to come back from injury in South Africa's T20 World Cup playing X1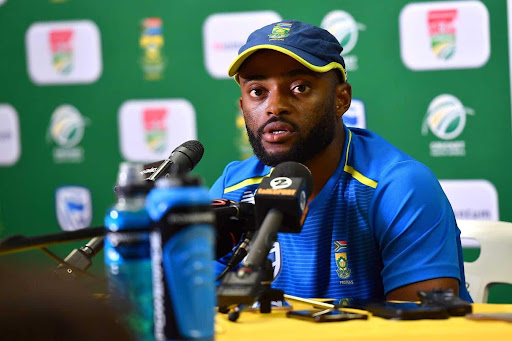 Twitter
South African captain Temba Bavuma is hopeful to play in the T20 World Cup as an opener and he will be likely to start net on Friday for the very first time after recovering from the injury.
South Africa's skipper Temba Bavuma is now in a good situation to play the upcoming men's T20 World Cup after breaking his thumb while batting against Sri Lanka in Colombo.
He released a statement during the interview from Abu Dhabi on Thursday that Friday would be
"my first time having live net facing bowlers".
He said he was "looking to play" in the warm-up matches against Afghanistan and Pakistan.
"Everything is on track,"

he said.
"I had a good batting session today. My hand is improved by the day. It's getting stronger and I'm getting a lot more comfortable with it." 
"It will give me a better indication of how far I've progressed. What I'm trying to get out of it is comfort; to see what I can do and make peace with what I can't do."
"What I am trying to get out of it is to get comfortable with my hand and with what I can do and, I guess, make peace with what I can't do. I can't say I am scared or anything like that. It's hard for me to give any emotions. It's just for me to get the necessary comfort and also to assess where I am,"

he added.
Read full article: Why Babar Azam is confident on winning from India
Proteas have seven players including Bavuma in their 15 members squad who was never featured in the T20 World Cup earlier.
"We had the opportunity to come in early and get through our quarantine, and we've had a couple of practice days. As soon as the warm-up games start, the intensity and the emotions around an event like this will start increasing. But at the moment we are relaxed."
Due to Bavuma's absence, Hendricks was playing with Quinton de Kock at the top of the order with Aiden Markram at No.3.
Now, Bavuma is likely to return as an opener and South Africa is now in trouble to take the decision which one should play from Markram and Hendricks.
Both of them will now be contesting for the third spot in the top three.
He said his squad has "had those conversations" about "previous South African team, and the label that's been put on them at these sort of events".
"We've accepted that those types of pressure will always be there until we bring back some sort of silverware, and we accept that,"

Bavuma said.
But he added a rider:
"It's not something that we have to carry on our shoulders, especially this bunch of players."