WWE Tag Team champions Nia Jax & Shayna Baszler defeated Mandy Rose & Dana Brooke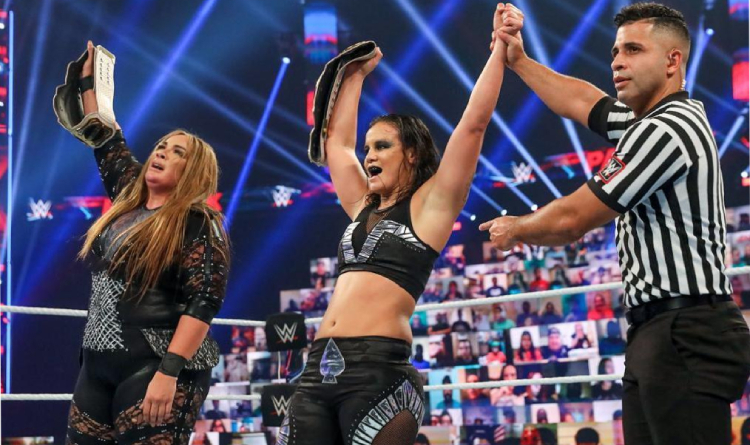 Jax and Baszler celebrating victory
WWE Tag Team champions Nia Jax & Shayna Baszler defeated Mandy Rose & Dana Brooke in a non-title match at Monday Raw on March 22.
Jax and Baszler played Reginald as a wild card to secure victory
Rose attacked Shayna from behind and let her partner tag in. Baszler took Brooke down and tried to submit her with a Kirifuda Clutch. However, Mandy landed a dropkick and saved her ally. When Nia joined the battle, Dana kicked and elbowed her. But Jax withstood the onslaughts and fought back with a clothesline.
The champions' partner Reginald did a front flip in the ring to distract Brooke. Nevertheless, Dana managed to block Jax's attack, and Rose tagged in. Mandy dropped Jax down with a knee to the face, but Nia got back to her feet for a 2 count. After Baszler had pulled Rose off the apron, Dana came into the ring and charged Jax. While Shayna and Mandy were struggling out at ringside, Nia hit Brooke with a Samoan Drop and won by pinfall.
Following the showdown, Naomi and Lana challenged Jax and Baszler for the belts. In their first title bout, Naomi pinned Baszler down and was close to winning the clash, but Reginald rescued Shayna. Thus, a rematch perfectly makes sense.
At WWE Fastlane on March 21, a newly formed tag team of Sasha Banks and Bianca Belair took on Jax and Baszler. Banks and Belair dominated much of the clash, but Shayna eventually rolled-up on Sasha and scored victory. Banks was disappointed with Belair's performance and attacked her after the showdown. Sasha's feud with Bianca is set to be settled at WrestleMania 37, as she will defend the SmackDown crown against her.