WWE champions Nia Jax and Shayna Baszler defeated Charlotte Flair and Asuka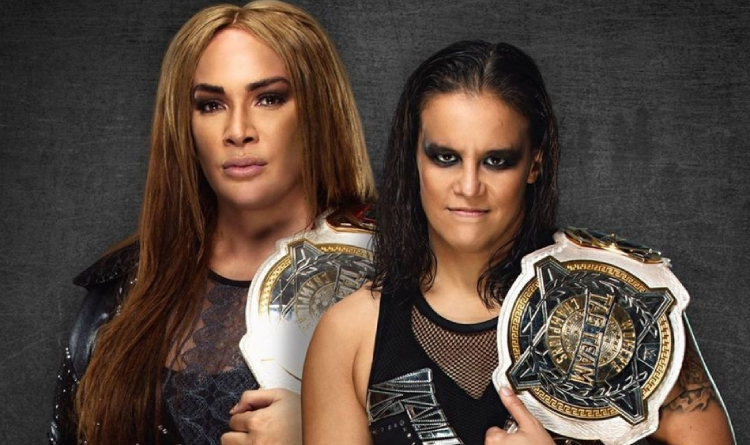 Jax and Baszler with the belts
WWE Tag Team champions Nia Jax and Shayna Baszler took on Charlotte Flair and Asuka in a non-title fight at WWE Raw on February 22.
Jax and Baszler are set to defend the titles against Naomi and Lana
Shayna faced Asuka at the beginning of the contest. Baszler caught her opponent into a stretch muffler, but Asuka performed a takedown and made a submission attempt. Nia tagged in to save her partner; however, Flair joined the battle and helped her teammate to clear the ring.
After the commercial break, Asuka took a hard beating from Jax and Baszler. Then Nia and Shayna went for a double-team suplex to finish Charlotte, but failed to do it. Flair counterattacked with a clothesline and chopped Jax. Nia withstood the onslaught, landed a powerbomb and was close to submit Flair with a chin lock. However, Charlotte escaped and tagged Asuka in. Asuka charged at her rivals but took a huge blow from Flair and dropped down. Jax tagged in to win the contest by pinfall.
WWE Raw also featured a tag team match Mandy Rose & Dana Brooke vs Naomi & Lana. Dana started against Lana, but Naomi suddenly stepped in the ring and hit a double-team facebuster on Mandy Rose with Lana, scoring a victory for 30 seconds. Naomi & Lana's performance impressed Jax and Baszler, who were closely watching the bout.
Naomi and Lana made an alliance in February 2021. They debuted as a team at WWE Raw on February 1. The ladies beat Charlotte Flair & Asuka and Mandy Rose & Dana Brooke in a triple threat match. They became the number 1 title contenders and strengthened their championship ambitions by triumphing over Brooke and Rose.