Will Jinder Mahal elevate to being the first ever WWE NXT India Champion?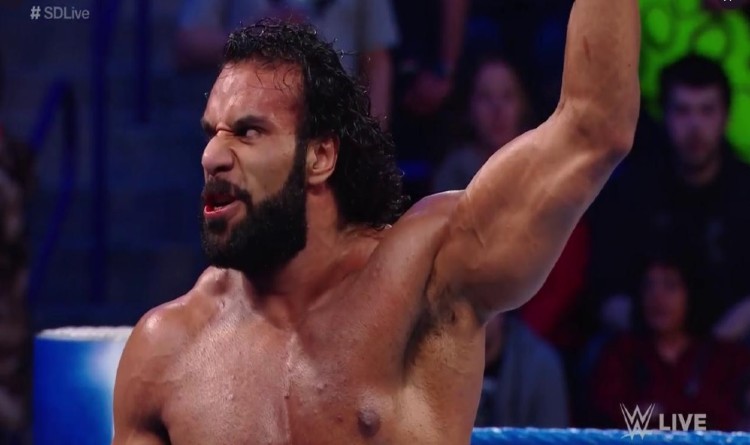 WWE
At a time when rumour mills are abuzz with WWE launching a tailor-made NXT program for India, these very rumour mills are again abound with Jinder Mahal winning the title and re-emerging onto the WWE scheme of things looking stronger than ever. Yes, there are now reports on Mahal being crowned the first ever WWE NXT India champion.
These, are worth taking with a pinch of salt now, but hold potential considering the fact that Mahal in his last run with WWE was crowned the champion by defeating Randy Orton and the Maharaja was placed in high profile feuds and was about to evan face Brock Lesnar at Survivor Series in 2017 till AJ Styles defeated him to win the title and face Lesnar in the champion versus champion match. Mahal's heel work also received kudos from a vast majority of WWE fans and especially those in India who bought WWE merchandise more than ever when the Maharaja had the gold.
Thus, Mahal as a champion would any day bolster WWE viewership in India. Remember that prior to Mahal, it was The Great Khali who put on the Indian ambassador shoes for WWE. His matches, and victories over The Undertaker, boosted viewership for the Vince McMahon-owned company in the cable tv segment. At this juncture, WWE has also been seemingly showing increased focus on India.
Various top superstars such as the likes of Drew McIntyre and Kevin Owens have publicly expressed their desire to tour India when WWE returns to India in the near future. McIntyre also added that he would like to tag with Bollywood actor John Abraham in a match.
With focus such as the above, the rumours indicating a potential India-specific NXT program certainly get substance. These have in turn given rise to other rumour mills that have been indicating that Mahal could be booked strongly for his upcoming run (in WWE) by capturing the NXT India title. If these rumour mills are anything to go by then Mahal should be booked strongly heading into Wrestlemania 37.
WWE fans in India have been clamouring for a Mahal versus McIntyre match at the Grandest Stage of Them All. The Maharaja's rumoured strong booking could well set the tune for this feud. It also makes sense considering the fact that Mahal's in-ring skills as well as body shape improved tremendously during his last run. He also honed his mic skills and formed a formidable heel stable with the Singh Brothers who now wrestle under the moniker Bollywood Boyz on WWE NXT.
Mahal, real name Yuvraj Singh Desi, is now amongst the most well known WWE faces in India joining the likes of The Great Khali, The Undertaker, Kane, Batista, Triple H, Roman Reigns, and Kevin Owens amongst others. This was possible thanks to Mahal's last run that featured him looking comparatively stronger than his previous run that resulted in him being used as part of the comic stable called 3MB that also featured current WWE champion McIntyre.
Hence, it makes sense for WWE Creative to book Mahal strongly and ensure that he is placed at the top position as far as quality of feuds are concerned.
In related news, on this week's WWE RAW, the mind games between The Fiend Bray Wyatt and Randy Orton continued with the former featuring in an "inferno" segment akin to The Undertaker. Wyatt, in his Fiend avatar needs to wrestle more matches and really look the strong "demonish" personality he is booked to be. Otherwise, it would be a waste of yet another talent. With rival promotions viz AEW now having lapped up the likes of Sting and Miro, the competition between the North AMerican wrestling promotions has heated up.
Here, it is worth noting that last week's Impact Wrestling segment involving AEW champion Kenny Omega was also a massive hit as far as viewership is concerned. With a multitude of WWE stars in Impact as well, WWE needs to offer a product that is truly interesting and away from the likes of involving Roman Reigns who is always booked as the numero-uno guy in all of WWE. Sadly, Reigns with all the strong booking he has received is still not the "face" of WWE replacing John Cena who now wrestles part time for Vince McMahon.

These factors also add up to the demand for a strong push for Jinder Mahal. His heel work has been appreciated highly by both critics as well as fans alike. WIth this, it could now potentially be time for him to turn face and go after the heels. The NXT India championship around his waist could also add more substance to Mahal's rejuvenated persona inside the ring.
Finally, with freshness being teh criteria, WWE Creative must look at moving away from Reigns and book guys like Matt Riddle, Bobby Lashley, Jeff Hardy, Sheamus, and Keith Lee in the main events. These guys have a demonstrated history of carrying the WWE on their shoulders in various capacities (and brands). Thus, it is time to look beyond Roman Reigns and book these guys including the likes of Jinder Mahal as the next face "that runs the place". Otherwise, even hardcore loyalists could simply switch brands and wrestling promotions like that of the wrestlers. Time for Vince to take notice. Mahal could be your next John Cena before you even know. Give him the opportunity that he badly deserves. For all that you booked Brock Lesnar and Roman Reigns, offer Mahal at least one tenth of these opportunities. Avoid another CM Punk fiasco. NXT is going strong as fara s fresh talents are concerned. Hence, the India-specific show should do wonders both for WWE and for the fans in that country.
Mahal as NXT India champion is surely a sight to behold. Hope that the rumour mills indicating this development turn true at the earliest. At least by the very first part of 2021.