The Bollywood Boyz lost 8-Man Tag Team Match at WWE 205 Live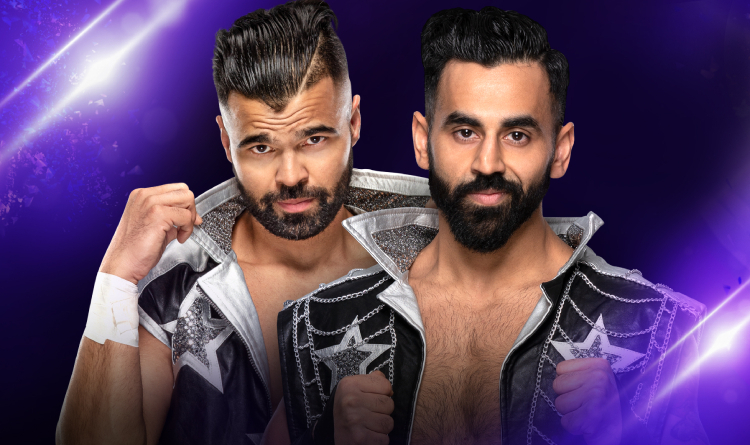 The Bollywood Boyz before the clash at 205 Live
The Bollywood Boyz, composed of brothers Sunil and Samir Singh, lost an epic 8-Man Tag Team Match at WWE 205 Live on February 19.
Bolly-Rise are riding on a 3-fight losing streak
Canadian wrestlers Chase Parker and Matt Martel, representing the tag team Ever-Rise, joined forces with The Bollywood Boyz to form a party called Bolly-Rise. The quartet took on Mansoor, Curt Stallion, Jake Atlas and Ashante in the ring. At the beginning of the showdown, Bolly-Rise cornered Ashante and were close to finish him with a slam. However, he evaded the attack and scored a diving tag. Bolly-Rise showed great offensive skills during a brawl and delivered several heavy strikes. But Stallion changed the course of the battle. He hit Sunil with a running headbutt, made a pinfall and won the clash.
The Bollywood Boyz joined Ever-Rise in February 2020. Martel allied with Sunil to face Tony Nese and Ariya Daivari at WWE 205 Live on February 5. Singh and Matt were clearly winning the fight, but they failed to build on success due to miscommunication and lost the clash.
Nevertheless, Bolly-Rise did not give in to despair. They formed a second duo of Parker and Samir. The wrestlers took on Ashante and Mansoor on February 12. The teams opened up quickly and landed several combinations. Samir was about to close the show with the Bollywood Blast elbow, but Adonis saved his partner and hit Singh with a superkick, scoring a victory by pinfall. Bolly-Rise have yet to find a winning method to cut off a 3-fight losing streak. The athletes certainly have great potential; however, they must achieve better teamwork and gain experience.