Randy Orton vs The Fiend contest added to WrestleMania 37 fight card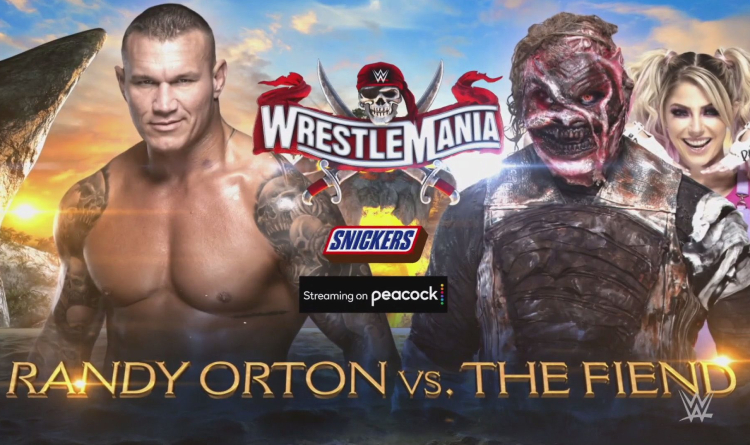 Orton to face The Fiend with Alexa Bliss
WWE has added a contest between former WWE champion Randy Orton and Bray The Fiend Wyatt to the WrestleMania 37 fight card.
The Viper fell prey to The Fiend and Alexa Bliss duo at Monday Raw
Orton took on The Fiend's ally Alexa Bliss at WWE Fastlane on March 21. Alexa offered Randy to fight one-on-one, but she failed to keep her promise. When Randy was standing in the ring ready to attack her, The Fiend's hand came through the canvas and grasped Orton's leg. Bliss hit the Viper with a dropkick, and The Fiend finished him with Sister Abigail.
At Monday Raw on March 22, Randy was eager to take revenge. He brought a gas can into the ring to summon The Fiend and defeat him. Orton's trick worked, because Bray appeared behind him. The Viper poured some gas on The Fiend, while he was standing motionless, and landed his finishing strike RKO. However, Randy did not have a chance to set Wyatt on fire, as Alexa diverted his attention. At that moment, The Fiend got back to his feet and caught his rival in the Mandible Claw.
Alexa and Bray trapped Orton twice in 2 days. When they were standing above a fallen opponent, Bliss pointed at the WrestleMania logo. WWE took Alexa's hint and booked The Viper vs The Fiend clash for the event. Given the results of the previous showdowns, Randy is poised to lose in case Bliss assists her teammate in the ring.
The WrestleMania 37 fight card is packed with 4 title matches. The tournament will be headlined by a contest between WWE Universal champion Roman Reigns and Royal Rumble winner Edge. SmackDown title-holder Sasha Banks and Women's Royal Rumble victor Bianca Belair are set to fight in the co-main event.