Pretty Deadly to defend the NXT UK Tag Team titles against Kenny Williams and Amir Jordan
Howley & Stoker to take on Williams & Jordan
NXT UK Tag Team champions Lewis Howley and Sam Stoker from Pretty Deadly are to defend their belts against Kenny Williams and Amir Jordan at NXT UK on April 1.
Williams and Jordan are the first to challenge recently crowned Tag Team champions
Howley and Stoker won a Fatal Four Way Elimination match in January and became the number 1 title contenders. Then Pretty Deadly took on Mark Coffey and Wolfgang from Gallus for the belts. Lewis and Sam dethroned the kings in a grueling clash and captured the gold. At NXT UK on March 25, the duo called Williams and Jordan out. Kenny and Amir accepted the challenge, and WWE booked the contest for next week's NXT UK.
Williams and Jordan fought against Pretty Deadly for the first time in November 2019. The bout resulted in their victory; however, Kenny and Amir lost to Gallus in a title clash. In 2021, Williams and Jordan defeated 2 teams in a row. They scored a controversial victory in the previous showdown against Flash Morgan Webster and Mark Andrews on March 11. Kenny dropped Webster to the canvas with a groin kick and secured the win by pinfall. Despite using illegal tactics, Kenny and Amir got a title shot.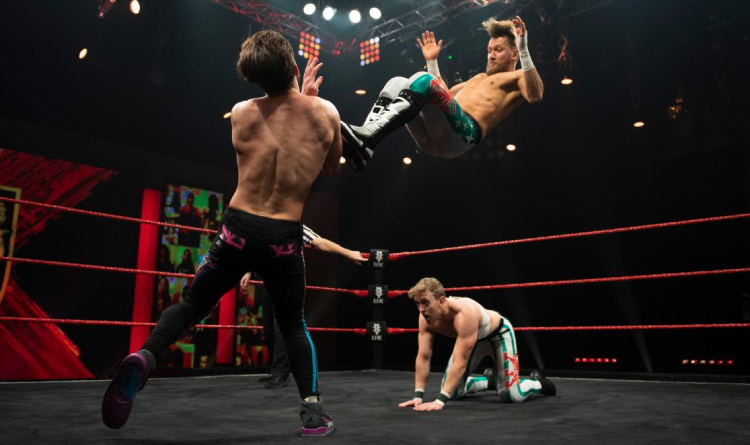 Howley and Stoker believe their opponents have no chances to triumph. They are looking forward to becoming the most dominating Tag Team champions in NXT UK history and claim that their reign will last forever. This bold statement is well grounded, because Pretty Deadly has dropped only 1 clash (to Gallus) since March 2020.