Otis camouflaged as El Gran Gordo to best The Miz and John Morrison on Monday Night Raw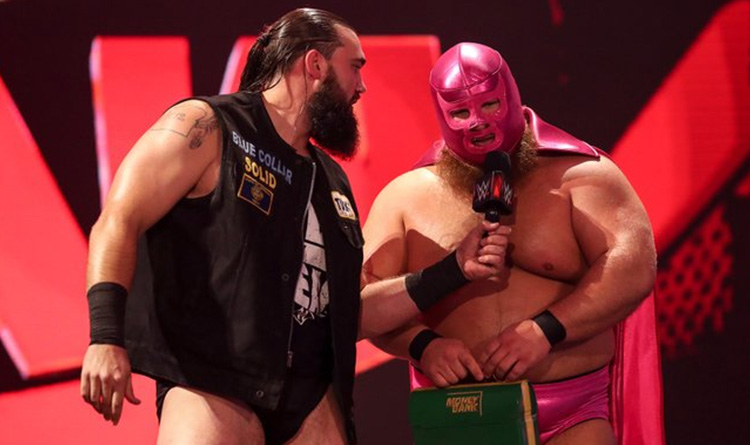 insidesport.co
This week's WWE Monday Night Raw had an off-beat/eye-grabbing character called El Gran Gordo who was by all means Otis in camouflage. This was the highlight of the show, in case you didn't already notice. If you thought that Ali disclosing him being the mystery hacker on Smackdown, or The Fiend "Bray Wyatt" (with Alexa Bliss) attacking Retribution, or Drew McIntyre facing-off with Randy Orton with a steel cage were some of the highlights, then think again.
Here, it is worth remembering that Otis has been drafted to the Smackdown brand; but this Monday on Raw, he was camouflaged as El Gran Gordo to assist partner Tucker against a tag-match with The Miz and John Morrison. "El Gordo" even stole the show in the match as he pinned The Miz after a series of excellent manoeuvres.
Check out below El Gordo's eye-catching manoeuvres
Otis' Lucha-like dressing and manoeuvres grabbed multiple eyeballs and even set social media on fire. Twitterati went abuzz and showered surprise and praises on El Gordo.
At this juncture, it is worth noting that Otis holds the Money in the Bank contract currently and he is still yet to cash-in. Now, it is expected by WWE fans that Otis could cash-in at Hell in a Cell 2020. Otis/El Gordo, as the WWE/Universal champion, would potentially be interesting considering the fact that he is currently a hot favourite across social media channels.
In other Otis-related content, Tucker and Otis as Heavy Machinery looked good as tag team champions last year. With the latter now a Money in the Bank contract holder, it makes more sense for him to cash in on Roman Reigns this Sunday at Hell in a Cell to win the WWE Universal Championship.