Niven & Starz secure victory in Mixed Tag Team Match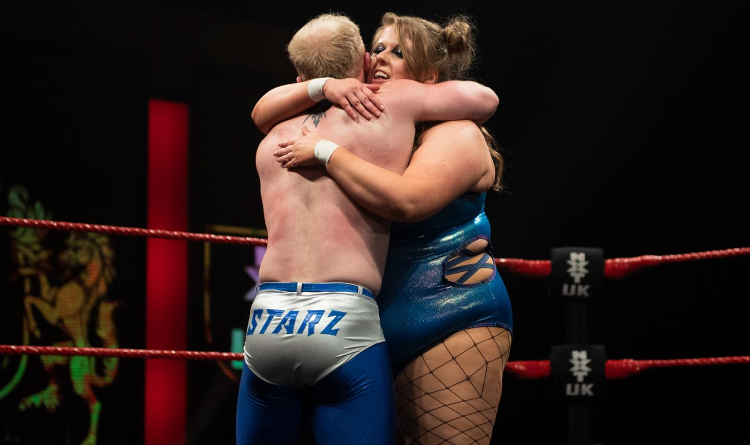 Niven and Starz celebrating triumph
Piper Niven & Jack Starz defeated Jinny & Joseph Conners in the first-ever Mixed Tag Team Match in the NXT UK main event on March 13.
Niven and Starz smashed their rivals in a grueling clash
The ladies opened the contest. Niven chased Jinny, but she tagged out, and her partner joined the battle. Conners attacked Starz, took him down several times; however, he failed to control his rival on the ground. When Jack got back to his feet, he caught Joseph in a cravat, brought the fight to the canvas but lost a grip. Starz tagged Niven in, who immediately went after Jinny and dropped her to the mat. Conners saved his teammate and absorbed a cheap shot.
Joseph eventually cut Jack off, landed a running cross body and threw him out of the ring. When Starz got back to the battlefield, he began brawling with Conners and knocked his opponent down. At that moment, Niven dropped Jinny to the ground and beat her up on the canvas. Jinny answered with a rolling kick; however, a headbutt sent her down once again. After Joseph tagged in, Piper and Starz hit him with a combination of an exploder and cannonballs. Niven tossed Joseph onto Starz, who pinned Conners down and won the contest at 9:42.
Niven and Starz became the first intergender tandem to triumph in a tag team bout on NXT UK. They showed outstanding offensive skills and well-coordinated work. Their duo definitely has a bright future; nevertheless, NXT UK has yet to announce upcoming Mixed Tag Team Matches. Piper successfully avenged Jinny and Conners for a bitter loss, which she suffered in January.