NASCAR champion Chase Elliott won WWE title in the run-up to DAYTONA 500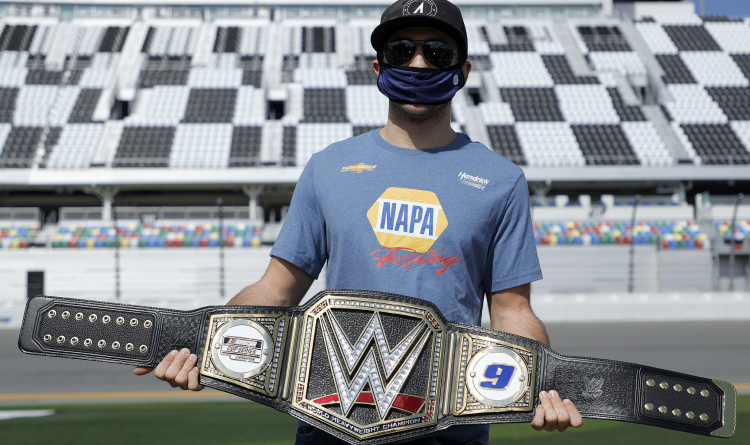 Elliott with the WWE belt
Professional stock car racing driver and winner of the 2020 NASCAR Cup Series Chase Elliott received a custom WWE belt.
WWE carries on the tradition of gifting belts for achievements in sport
Wrestlers Angelo Dawkins and Montez Ford, members of WWE tag team Street Profits, visited racetrack Daytona International Speedway and presented Elliott the specifically branded title. The belt has side plates with Chase's number and the Sprint Cup Trophy.
Over the past 6 months, WWE handed out 3 custom belts. The Tampa Bay Lightning was awarded a title for winning the Stanley Cup in September 2020. While the Kansas City Chiefs got a belt for scoring victory in Super Bowl LV on February 7 this year.
The race DAYTONA 500 is set to open the 2021 NASCAR Cup Series on February 14. The tournament will consist of 35 rallies and the final match. Elliott is looking forward to coming first in a second consecutive championship. Chase is currently ranked 59th in terms of the number of tracks won (11). His father Bill takes 18th place with 44 victories.
The Street Profits made their WWE debut in 2016. Dawkins and Crawford earned the NXT Tag Team titles in 2019, and their reign lasted 88 days. Last year, The Street Profits became the second party to win the WWE Tag Team Triple Crown. However, they failed to defend the SmackDown belts in a clash against Dolph Ziggler and Robert Roode on January 8 2021.