Mustafa Ali to challenge Matt Riddle for the WWE US title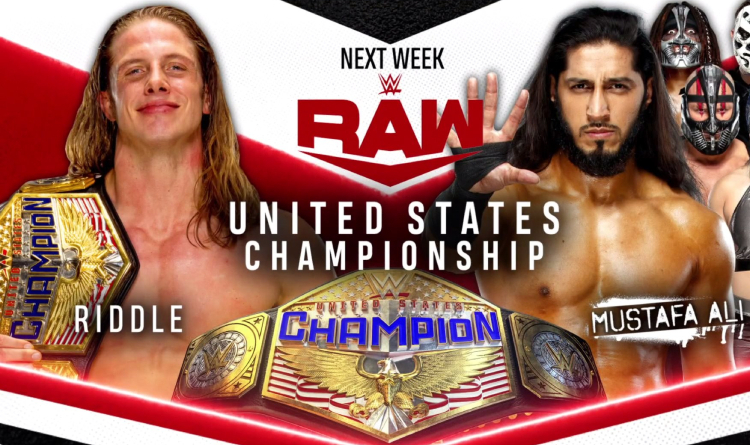 Riddle to face Ali
WWE has booked a bout between US champion Matt Riddle and former Dreamwave title-holder Mustafa Ali for WWE Raw on March 15.
Ali is looking forward to taking revenge for Slapjack's defeat
Mustafa's teammate Slapjack took on Riddle in a non-title contest at WWE Raw on March 8. Matt quickly brought the fight to the canvas and threw his rival out of the ring. Ali shouted instructions to his ally from the corner. When Slapjack got back into the ring, he landed a breath-taking combination of a suplex and a falcon arrow. Riddle absorbed a huge dropkick but managed to get back to his feet and counterattacked with a missile dropkick and a Final Flash. Slapjack answered with a knee to the face. However, he failed to capitalize on the success, and Matt finished him with a Bro Derek, securing a victory by pinfall.
Ali was furious with Slapjack's weak performance and berated his partner. WWE gave Mustafa an opportunity to avenge Riddle for beating Slapjack up and scheduled his title bout against Matt on March 15.
Mustafa's team Retribution lost to Riddle & Lucha House Party at Monday Night Raw on March 1. After the showdown, Ali took on Matt in a single match. The champion was close to finishing his opponent, but Slapjack distracted the referee. At that moment, Ali attacked Riddle from behind and pinned him down.
Following the win, Ali claimed that he should be the number one contender. Matt accepted his callout, stating that he was open to the challenge. Riddle won the belt in a Triple Threat match against Bobby Lashley and John Morrison on February 21. A clash against Ali will be his first title defence.