Kushida overpowered Santos Escobar and won the NXT Cruiserweight title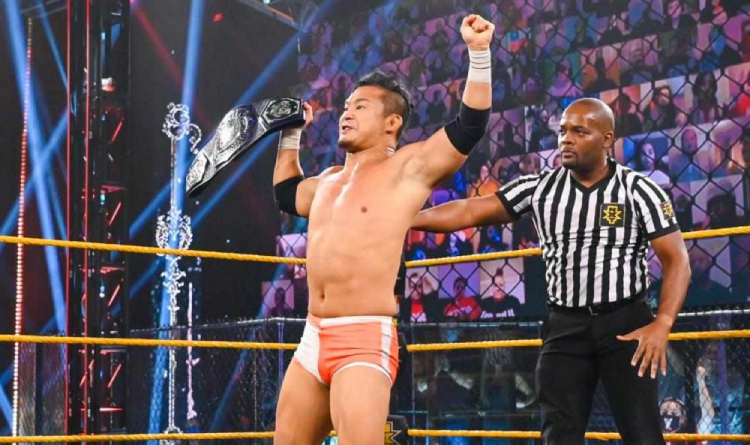 Kushida celebrating victory over Escobar
Japanese sportsman Kushida shocked wrestling fans. He overpowered NXT Cruiserweight title-holder Santos Escobar and became a new champion at WWE NXT on April 14.
Kushida earned his first gold in WWE
The challenger had attacked Escobar before the bell rang. He landed a dropkick and went for an armbar. However, Santos defended the submission attempt, got back to his feet and delivered several kicks followed by a hurricanrana. Then the champion caught Kushida in a lock, but the Japanese broke the grip and chopped him.
Santos dropped his opponent to the canvas with a kick; nevertheless, Kushida fought back and hit a suplex. The athletes started brawling in the ring and exchanged some heavy strikes. During a series of rollups, both wrestlers scored pinfalls, but Kushida secured the last one for a 3-count and defeated Santos.
Escobar triumphed over Drake Maverick in the final contest of a tournament for the interim NXT Cruiserweight title in 2020. Last week, he beat Jordan Devlin in a clash for the undisputed championship. Santos' combined reign lasted 314 days.
Kushida signed with WWE in 2019 and made his in-ring debut at WWE NXT on May 1. Last year, he participated in a competition for the interim NXT Cruiserweight title. The Japanese crushed Tony Nese and Jake Atlas but lost to Drake Maverick in the third bout. Kushida challenged North American champion Johnny Gargano; however, he failed to dethrone the king. Afterwards, the wrestler dropped pinfalls to Jordan Devlin and Pete Dunne. Nevertheless, he got a title shot against Escobar and made a huge upset by beating the champion.