Jurassic Express to take on Bear Country in a Godzilla vs. Kong-themed bout at AEW Dynamite
Jurassic Express to take on Bear Country
Wrestling tag teams Jurassic Express and Bear Country will fight in a Godzilla vs. Kong-themed bout at AEW Dynamite on April 7.
Jon Moxley, The Young Bucks, Kenny Omega and The Good Brothers are set to headline AEW Dynamite
AEW announced a match between animal-based tag teams Jurassic Express and Bear Country on April 1. The contest is timed to the release of blockbuster Godzilla vs. Kong. The promotion has not revealed the rules of the showdown; therefore, it will likely be a classic tag team bout.
Jurassic Express consists of Jungle Boy, Marko Stunt and Luchasaurus. Luchasaurus in the form of a lizard will serve as Godzilla. He will be assisted by dexterous Jungle Boy and nimble Marko Stunt. Jurassic Express currently takes second place in the tag team rankings. In the 2021 season, the wrestlers have won 4 fights in a row but still lag behind SCU, who scored 8 victories.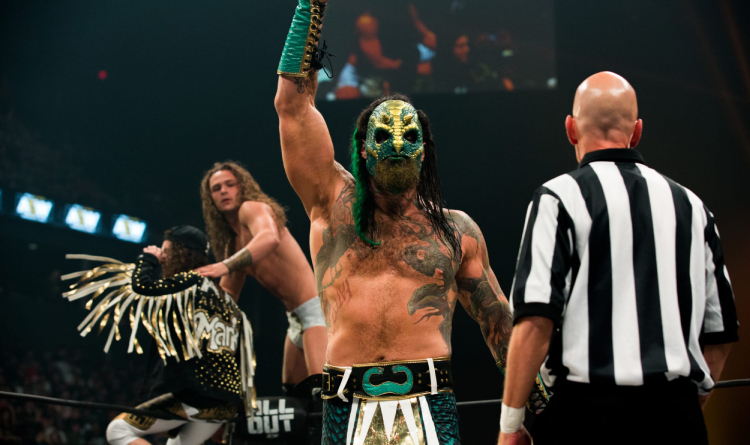 Bear Country composed of Bear Boulder and Bear Bronson is supposed to play a role of Kong. Boulder and Bronson made an alliance in 2019 and proved to be the most ferocious duo of the AEW roster. In 2021, Bear Country has won 8 of 11 contests, but the party is not on the list of top-5 tag teams.
AEW booked a trios match for the Dynamite main event on April 7. Jon Moxley will join forces with current AEW Tag Team champions The Young Bucks against AEW title-holder Kenny Omega with The Good Brothers. The tournament will also feature a clash between Darby Allin and JD Drake for the TNT belt.