Jordan Devlin retained the WWE NXT UK title in a clash against Trent Seven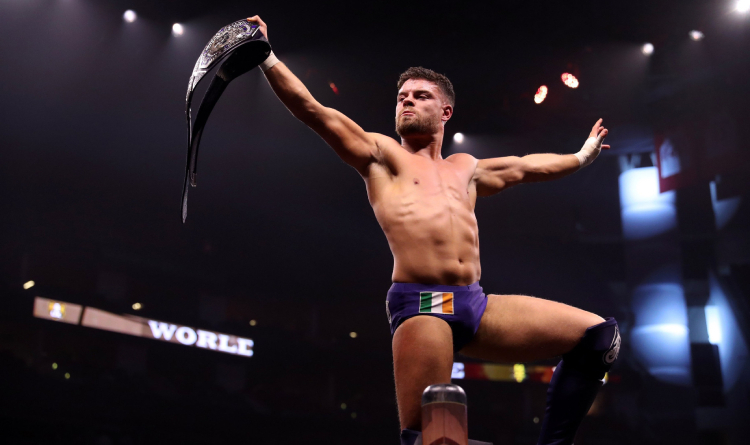 Devlin celebrating victory
WWE NXT UK cruiserweight champion Jordan Devlin retained the title in a clash against Trent Seven in the WWE NXT UK main event on March 18.
Devlin still holds the record for the longest reign in the NXT UK cruiserweight division
Trent opened up with a combination of shots, threw Jordan out of the ring and tossed him into the barricade. Devlin answered with a punch to the midsection followed by a forearm smash. Nevertheless, the challenger withstood the onslaughts, slammed the champion and applied a leg lock. Jordan broke free for a 2 count and caught his rival in a side headlock but failed to make his opponent tap.
When Seven started slowing down, Devlin took the lead. He beat the contender up and scored a knockdown. However, Seven got back to his feet, counterattacked with a knife edge chop and made 2 submission attempts. After Jordan broke the grip, Trent landed an Avalanche Dragon Suplex followed by The Burning Hammer. Seven held his rival's neck for a 3 count, but the referee claimed that Jordan's leg was over the rope.
While Seven was arguing with the judge, Devlin recovered, got back to his feet and dropped Trent to the ground with The 450 Splash. Jordan held his rival on the canvas for a 3 count and scored victory by pinfall in an extraordinarily grueling clash.
Devlin won the NXT UK crown in January 2020. He has been holding the belt for 418 days, setting a record for the longest reign. However, due to COVID-19 pandemic Jordan could not defend the title. Consequently, Santos Escobar was declared an interim champion. WWE booked the contest between Devlin and Escobar for the NXT TakeOver: Stand & Deliver On April 7.