Bray Wyatt and Alexa Bliss, now a "pair" in WWE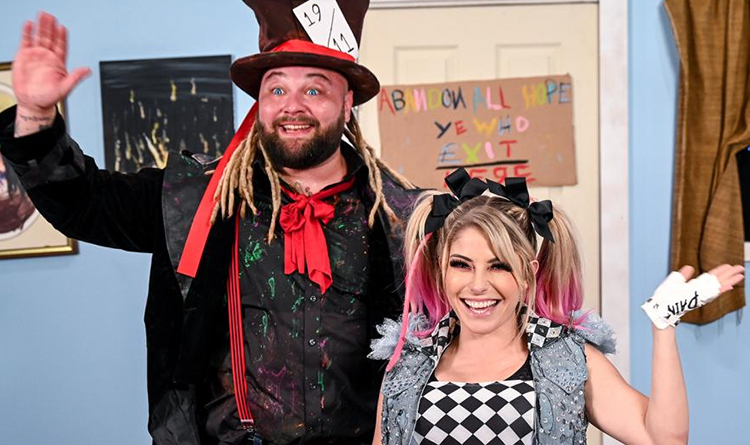 WWE
This week's WWE RAW seemingly solidified the pairing of Bray Wyatt (also as The Fiend) and Alexa Bliss. This strange pairing received enough substance as Bliss showed certain monstrous metamorphosis phenomena on the show.
WWE has teased pairing Wyatt and Bliss on numerous earlier occasions; but on this week's RAW, both superstars appeared for the second time in a row on the Firefly Fun House, with The Fiend evan making an appearance during Bliss' "A moment of Bliss" segment with Randy Orton thereby triggering a potential feud with the WWE champion in the near future.
As far as Bliss' metamorphosis is concerned, she did show some monstrous characteristics in the Firefly Funhouse. This could potentially indicate the beginning of a new monstrous stable with The Fiend and Alexa Bliss being the initial members. This also is a potential indicator of an intergender rivalry involving other teams (intergender) such as Andrade – Zelia Vega. Here, it is worth remembering that both The Fiend and Bliss destroyed Andrade and Vega a couple of weeks ago on Monday Night RAW signalling their arrival from Smackdown.
Now, with even The Fiend seemingly having accepted Bliss as his new partner in crime; it remains to be seen as to who would be the next superstars to fall victim to this newly formed team of "monsters".
With The Fiend on this Monday Night's RAW having displayed clear intentions to feud with the likes of champion Randy Orton and Drew McIntyre, the rivalry could be interesting though it may not involve Alexa Bliss. She could potentially go for gold by facing the RAW Womens' champion Asuka and eventually win the championship. Both The Fiend and the monstrous Bliss as world champions in their own divisions certainly makes for a dominating sight to behold.
At this point in time, The Fiend does need to hold a championship immediately. He is champion material, even more than that of Bliss. His monstrous nature is now being seconded (by fans) only to the legendary Undertaker. A potentially lip smacking affair – The Fiend (WWE champion) vs Randy Orton vs The Undertaker vs Drew McIntyre for Wrestlemania 37; like the sound of it!