Hooker vs Chandler: will former Bellator champion score victory in UFC debut?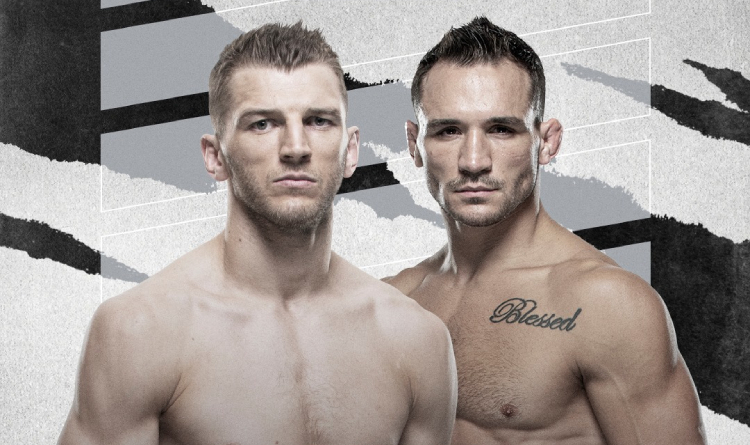 Hooker to fight Chandler
Lightweights Dan Hooker and Michael Chandler are set to fight in the UFC 257 co-main event on January 23. Will The Hangman defeat former Bellator champion?
Dan Hooker stats
Hooker started his professional MMA career in 2009 and amassed a record of 20-9. He won the SFC South Pacific belt in 2011 and became AFC champion next year. The Hangman defended the AFC gold twice and transitioned to the UFC in 2014. In the promotion, Dan has never been a title contender, but he earned 3 bonuses for the best performance and 2 "Fight of the Night" prizes. In 2019-2020, Hooker won 3 consecutive bouts. However, he lost to Dustin Poirier in June and cut off the winning streak. Dan is currently ranked sixth at lightweight.
Michael Chandler stats
Chandler began competing in MMA in 2009. His record stands at 21-5. Michael signed with Bellator in 2010 and won the Season 4 Lightweight Tournament next year. He beat 2 title challengers but failed to defend the gold in a contest against Eddie Alvarez. In 2016, Chandler knocked Patricky Freire out in a showdown for the Bellator title but failed to retain the belt in a clash against Brent Primus. In 2018, Michael won the title for the third time. Nevertheless, Patricio Freire ended his reign. In 2019-2020, Chandler gained 2 victories in Bellator and struck a deal with the UFC.
Hooker vs Chandler stats
Dan lands 7% more shots per minute, but Michael absorbs 26% fewer strikes.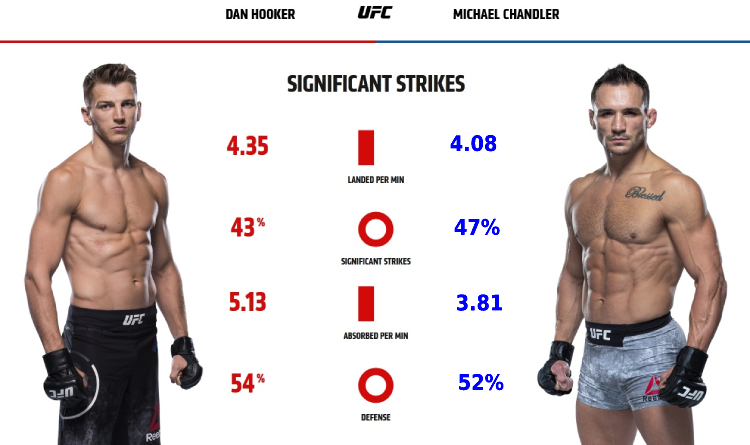 Chandler outnumbers Hooker's takedowns almost 5 to 1 and makes thrice as many submission attempts.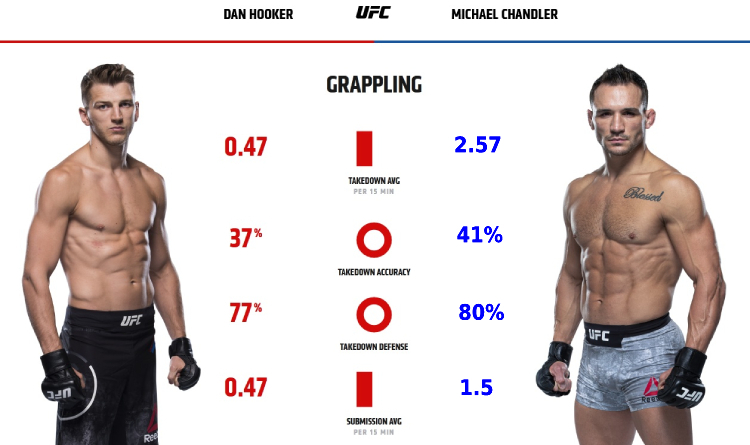 Hooker vs Chandler preview
Dan coached in kickboxing and compiled a record of 9-3-1 in kickboxing competitions, while Michael did not train in striking martial arts. Therefore, Hooker has a better technique and employs a wider range of blows. Chandler compensates lack of mastery with power and speed.
Chandler competed in NCAA Division I Wrestling and won 2 silver medals in Big 12 Championships. Hooker got a purple belt in BJJ; however, he rarely uses grappling skills offensively. Dan has a solid takedown defence, but given Michael's high accuracy, he will likely fail to deny all attempts to bring the fight to the canvas.
Hooker's main flaw lies in a weak striking defence. He tends to stand his ground and take shots instead of dodging them. Chandler, as a born brawler, will definitely win exchanges in the close range. Besides, Michael has a strong advantage in grappling. Considering these factors, Dan has great odds to lose the bout. Chandler's finish rate is high – 76%. But Hooker is an extremely tough and durable athlete – he suffered only 33% defeats by KO and submission. Therefore, Michael is expected to win via decision.
The most probable fight results
Michael Chandler to win by decision (53/20);
Total rounds over 2.5 (17/20).
Disclaimer: Fight analysis is not a betting tip or a gambling advice of any sort. Our experts determine the most likely outcome of a sporting event based on statistics and personal views. Therefore, the actual result of a competition may differ from the predicted.