Wimbledon 2022 Singles' Semi-Final Roundup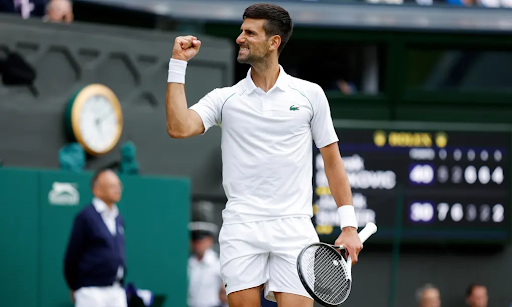 Novak Djokovic is aiming to win his seventh Wimbledon Championship
The singles semi-finals of the 2022 Wimbledon Championships have wrapped up and we have found our two finalists for each singles category of the current championships. As expected Novak Djokovic does make the cut after shaking off early jitters against local boy Cameron Norrie.
The six-time Grand Slam champion is now set to play Nick Kyrgios, who received a walkover in his semi-final tie against Rafael Nadal after the latter suffered an abdominal tear in the quarter-final while playing against American Taylor Fritz.
Meanwhile, in the women's singles, Kazakhstan's Russian-born tennis star Elena Rybakina scripted history after she recorded her maiden final appearance at the All England with victory over Former World No.1 Simona Halep. Rybakina will now play Ons Jabeur who became the first Arab woman to advance to the final of a Grand Slam to beat Germany's Tatjana Maria 6-2, 3-6, 6-1 on Court 2.
Let us take a look at all the singles semifinal challenges at the Wimbledon –
Men's Singles: Novak Djokovic vs Cameron Norrie
World number three Novak Djokovic overcame early nerves in the Wimbledon 2022 semi-finals to defeat local boy and ninth seed Cameron Norrie.
The Serbian, who is vying for his seventh Grand Slam title, lost the first set after a dominant start from the Brit. Novak struggled to find his rhythm in the first set, losing to Norrie's flat backhands, who came out with a predetermined game plan against last year's runner-up.
After losing the first set 2-6, Novak attempted to re-enter the game but found it difficult against Norrie, who remained in form. However, a slip on his right ankle hampered Norrie's momentum and shifted the game's flow. The local lad appeared to be restricted in his movement, but most importantly, he appeared to have lost concentration against the Serbian player.
Djokovic took full advantage of the British player's unforced errors and dominated the second and third sets to turn the game on its head.
It was only a matter of time before the Serbian reached his eighth Wimbledon final. Norrie desperately tried to regain his initial rhythm in the game after losing the second and third sets. And he played well in the fourth set to keep the match alive. However, an on-song Novak Djokovic proved too much for him, and he lost the fourth set 4-6.
Men's Singles: Rafael Nadal vs Nick Kyrgios
Rafael Nadal, the two-time Wimbledon champion, withdrew from the 2022 tournament due to an abdominal injury, just hours before his semi-final match against Nick Kyrgios on Centre Court on Friday.
Nadal had battled abdominal pain to oust Taylor Fritz in the five-set thriller on Thursday to reach his eighth Wimbledon semi-final. With his withdrawal, Nadal's chances of completing the calendar Grand Slam are over.
Nadal had a light 45-minute practise session on Thursday in an attempt to shake off his injury concerns and be ready for the big semi-final match against Kyrgios, who reached his first Grand Slam semi-final.
Prior to his practice session, the Spanish newspaper Marca reported that Nadal had suffered a 7-millimetre tear in one of his abdominal muscles. In the quarter-final match against Fritz, Nadal wore a tape over part of his abdomen and took a medical time-out before the start of the second set, which included taking painkillers.
Women's Singles: Simona Halep vs Elena Rybakina
Elena Rybakina defeated former champion Simona Halep in straight sets, advancing to her first Wimbledon final. The Russian-born Kazakh's relentless display of powerful hitting proved too much for 2019 winner Halep, who was defeated 6-3 6-3 to set up a Saturday meeting with third seed Ons Jabeur.
Rybakina, who was born and still lives in Moscow, avoided Wimbledon's ban on Russian players by switching to represent Kazakhstan four years ago. That decision, made in order to receive more funding, has paid off for both parties, with the world No. 23 becoming the first Kazakh player to reach a Grand Slam final.
Halep had swept past seeded opponents Paula Badosa and Amanda Anisimova on her way to a third major title. However, the Romanian was unable to buy a first serve, with nine double faults compared to Rybakina's five aces telling its own story.
Rybakina took an early break thanks to a double fault followed by a fizzing forehand winner. At 4-1, Rybakina successfully challenged a line call, resulting in two more break points, but Halep wriggled out of trouble this time.
But Rybakina's pressure was telling, and another double fault brought up a set point, which Halep also had to negotiate in order to hold for 5-3. But it was just postponing the inevitable, with a 118mph ace giving Rybakina three set points. Halep saved two, but Rybakina won the first set in 37 minutes after a forehand floated wide.
Halep was able to claw her way back this time, but her good work was quickly undone by another serving blip. Rybakina secured her place in the final with a booming backhand down the line at 5-3 on Halep's serve.
Women's Singles: Ons Jabeur vs Tatjana Maria
Ons Jabeur has become the first Arab woman to reach a Grand Slam final. On Thursday, July 7, she defeated Germany's Tatjana Maria 6-2, 3-6, 6-1 on Court 2 to advance to the Wimbledon 2022 final.
Jabeur was at her best in the first set, breaking her opponent's serve twice. Maria, who was playing in her first Grand Slam semi-final, made a stunning comeback in the second set. She outplayed Jabeur and took the match to the third and final set.
However, Jabeur used her experience to take a 5-0 lead, making it extremely difficult for her opponent to stage a comeback. Maria then managed to hold her serve and keep Jabeur waiting for a little longer.
But Jabeur didn't let Maria keep her hopes alive, and the match was over in the next game. The fact that Maria made five double faults didn't help her by any means. Jabeur pulled out four aces compared to Maria, who managed none.
Jabeur also did not give Maria many opportunities to break her serve. Furthermore, Jabeur was impressive with her second serve, winning 72 per cent of her points from it.