US Open 2022 Women's Singles Quarter-Finals Roundup: Sabalenka, Garcia, Jabeur and Swiatek advance to semis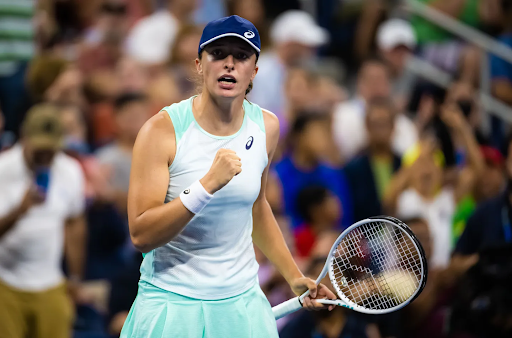 Iga Swiatek defeated Jessica Pegula in straight sets
The women's singles quarter-finals of the 2022 US Open have wrapped up and we have found out our four semi-finalists of the current championships. As expected Iga Swiatek does make the cut after easily defeating Jessica Pegula in straight sets. The two-time French Open champion is now set to play Aryna Sabalenka, who also won her quarter-final match comfortably against Karolina Pliskova.
Meanwhile, 2022 Wimbledon runners-up Ons Jabeur scripted history after she reached her maiden semi-final appearance at the 2022 US Open with victory over compatriot Australia's Ajla Tomljanovic. The Tunisian will now play Caroline Garcia who looked sensational in her win against local favourites Coco Gauff.
Let us take a look at all the women's singles quarterfinals challenges at the current US Open Championship –
Caroline Garcia vs Coco Gauff
17th seed Caroline Garcia knocked French Open 2022 runner-up Coco Gauff out of the 2022 US Open competition on Wednesday, September 7. Garcia, who is currently on a 13-match winning streak, defeated the 18-year-old Gauff 6-3, 6-4 at Ashe.
Garcia, who came into the US Open after winning the Cincinnati Masters, had a stupendous first serve win percentage of 78. She was also excellent at the nets, winning 13 out of 16 points.
Gauff, on the other hand, looked out of sorts and hardly looked at her best. She made six double faults and was poor on her second serve with only a 27-win percentage.
Garcia, in the meantime, is set to take part in her maiden grand slam semis and will lock horns with Jabeur on Friday.
Ons Jabeur vs Ajla Tomljanovic
World No.5 Ons Jabeur, on Wednesday, September 7, advanced to the semi-final of the women's singles in the US Open 2022. The 28-year-old defeated Australia's Ajla Tomljanovic 6-4, 7-6 (7-4) at Arthur Ashe Stadium to qualify for her second-straight grand slam semis.
Earlier, Jabeur had played in the Wimbledon 2022 final where she lost to Kazakhstan's Elena Rybakina. Although she had to fight a wee bit in the second set, Jabeur was pretty much on course for victory once she found her rhythm.
She pulled off 29 winners compared to her opponent's 12 and that turned out to be a crucial factor in the context of the match. Jabeur made 30 unforced errors, but it didn't become a hurdle for her on the way through to the semis.
Jabeur also became the first African woman to advance to the US Open semis in the open era after beating Tomljanovic, who earlier knocked Serena Williams out in the third round.
Iga Swiatek vs Jessica Pegula
World number one Iga Swiatek secured a close victory over number eight seed Jessica Pegula to storm into the semi-finals of the US Open on Thursday, September 8.
Poland's Swiatek held off American Pegula 6-3, 7-6(4) in nearly two hours at Arthur Ashe Stadium to make it to her maiden final four in New York. With the victory, Swiatek has now reached the semi-finals of three Grand Slams this year – the Australian Open, the French Open, and the US Open.
Swiatek started her major season by reaching the semi-finals at the Australian Open but fell short as she lost the last-four match to Danielle Collins before going all the way to win her second French Open title.
The top-seeded Swiatek dropped her racket and raised her fist after defeating Pegula in the US Open quarter-finals. The Pole has guaranteed herself the top spot in the world ranking after the tournament ends.
In the tense second set, both Swiatek and Pegula held serve only once, with the Pole failing to serve out the match at 5-4 and 6-5. Both exchanged winners in the tiebreak before Swiatek finally got a double match point at 6-4. Swiatek had 22 winners as compared to Pegula's 14 and had three more unforced errors than the No.8 seed.
Swiatek, who is trying to return to her dominant form when she stitched a 37-match winning streak, will play No.6 seed Aryna Sabalenka in the semi-finals. Swiatek has now won 55 matches this year, which is just two shy of former player Ashleigh Barty (57 matches in the 2019 season).
If Swiatek goes on to win the US Open trophy, it would make her the first player since Serena Williams (2014) to win seven or more titles in a single season.
Aryna Sabalenka vs Karolina Pliskova
Aryna Sabalenka became the first woman since Serena Williams (2019-20) to reach back-to-back semifinals at the US Open. The No.6 seed defeated No.22 Karolina Pliskova 6-1, 7-6 (4) on Wednesday, September 7 in Arthur Ashe Stadium.
Sabalenka has now won her past three Grand Slam singles quarterfinals – the only three of her career – in straight sets. Sabalenka has now won five consecutive matches for the first time since last year's US Open. Sabalenka hit 18 aces and Pliskova 14 – the most in a WTA match over the past two years. But it was Pliskova who prevailed in three sets.
This time, it was double faults that defined the trajectory in the early going. Pliskova had three in her first two service games – and lost both of them. Sabalenka ran out to a 4-0 lead before Pliskova finally held serve.
Sabalenka broke Pliskova's serve for the third time to take the first set when the Czech player struck two more double faults and Sabalenka hauled off three forehand winners. Sabalenka finished the frame with 10 winners — nine more than Pliskova, who had 15 unforced errors.
With Sabalenka serving at 2-all in the second set, she unleashed three aces and, finally, another unreturnable serve that gave her a 3-2 lead. She held again, for 4-3, when four big serves pulled her out of a love-30 hole. And while her forehand began to break down, she came up with some effective second serves to bring it to 5-4 – on the way to a tiebreak. Sabalenka had seven aces and 22 of her 59 serves were not returned (57 per cent).