Shapovalov told a fan off in Russian in the match against Rublev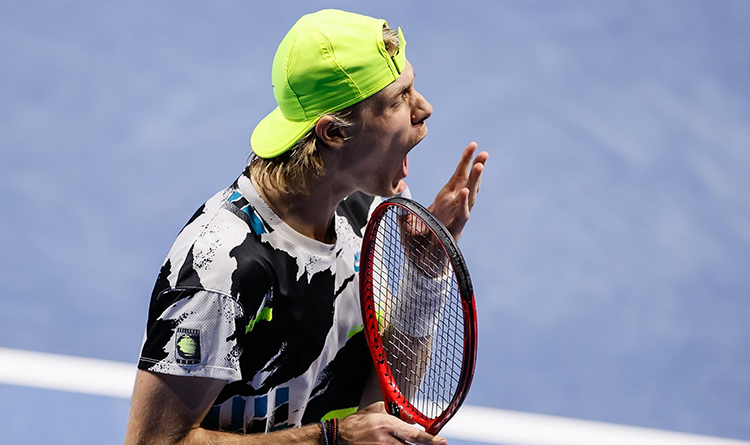 myseldon.com
Canadian tennis player Denis Shapovalov fought with one of the fans during the semifinal match with Andrei Rublev. During the game, the 21-year-old several times asked the viewer to leave the stands and not interfere with the game.
In the third set, when the score was 2: 2 and 30-40 on Shapovalov's serve, one of the fans shouted the Canadian by the arm, to which he drew the attention of the umpire. This was followed by a rally, thereby, Denis lost a point, and led Rublev to victory.
During the one-minute break, Shapovalov once again complained to the judge about the violent spectator and then turned to the troublemaker himself. First, he spoke in English and then in Russian.
"Get out of here, get out! Get out of here already. Get out. Get out of here nafig. Get out of here," Denis shouted several times.
At the same time, Rublev, passing by the tower, noted that such a fan's behaviour was "too much," and the referee himself several times warned the audience to be calm during the match.
Probably, the reason for not too adequate behaviour of the fan was the episode from the second set, when Shapovalov called a doctor to the court. Although in a post-match interview, Denis said that his hand was clamped, not everyone believed in the truth. It is noted that the Canadian tennis player asked for a doctor's time-out after several tips from coach Mikhail Youzhny.
Despite the ambiguity of the situation, Rublev noted that even if Denis took a break in order to slow down the pace of the match, he had nothing against this.
– Are you angry at such moments?
– No, this is just a game moment. If it helps to win the match, so why not to try it.
– That is, you can do the same – call a doctor when nothing has happened to you?
– If they tell me that the doctor's call will change the course of the match and I will have a chance to win it, of course, I will. I think everyone will do it. If you say, "If you don't call the doctor, you will lose the match, if you call it, you'll win," I would like to see who doesn't.
– But in case that nothing hurts you?
– What difference does it make, something shouldn't hurt. It's all the same psychology, it's a sport. In basketball, they constantly take time-outs in the last minutes, we simply don't have them in tennis – there is a medical break," summed up Rublev.