Rublev beats Tsitsipas to reach his 10th career final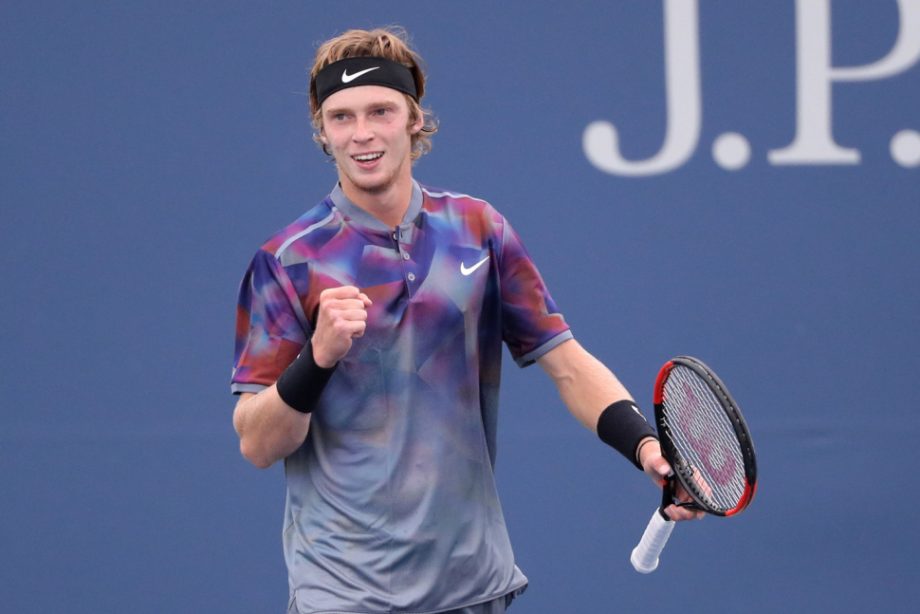 Andrei Rublev during the match
March 1, a relatively big ATP 500 tournament got off to a flying start in Rotterdam, Netherlands, alongside the WTA 500 in Doha. While the women's winner was revealed yesterday, the men have yet to reach the final. The tournament has 32 entrants and a prize fund of more than €1 million. With the tournament scheduled to end on March 7, we can see who has won the right to be called the best on the courts in Rotterdam.
Andrei Rublev reached his 10th career final
Andrei Rublev, the eighth-ranked player in the world and winner of eight ATP Tour events, beat the sixth-ranked Greek Stefanos Tsitsipas 6-3, 7-6 in the semi-finals to reach his 10th career final. Rublev's balance against the top-10 is now 10:18.
For the Russian No. 2, this victory was his 19th consecutive at the ATP 500 level, the third-longest streak in history. We recall that last season, he took titles in Hamburg, St Petersburg (which received the category for one year), and Vienna. To repeat Roger Federer's record, he needs to win nine more matches. By the way, the Swiss' record at the moment is 28 consecutive matches.
Rublev had to take on the winner of the Borna Coric – Marton Fucsovics match for the ninth title. And since world No. 59 Marton Fucsovics, who came out of the qualifiers, beat his opponent Borna Coric 6-4, 6-1 in the second semi-final, he will be the Russian's opponent in the final.
Fucsovics is reportedly guaranteed to return to the top 50 next week, and if he wins, he'll be back in the top 40. It should be noted this is the 29-year-old Hungarian's first ATP 500 final and third ever. He has only one title under his belt – the 2018 Geneva title.
By the way, the Russian and the Hungarian are tied 1-1 in the individual draw. That's why the final in Rotterdam promises to be particularly interesting.
Rublev on the win over Tsitsipas:
"I think Stefanos was a bit tired. It will happen to me someday too"
In his short interview after the match, Andrei Rublev commented on his victory over Stefanos Tsitsipas. He admitted his opponent seemed a bit tired, and the Greek didn't serve as well as he usually does and then said he was happy with his performance and reached the tournament's final.
"Today, I was fresh, felt good, and moved well. I think Stefanos was a bit tired. Maybe that's why he didn't serve as well as usual."
The Russian, however, understands this is tennis, and it can happen to him too one day. After all, he has a tough match every day, and the next day he has to play again. According to him, it's part of their sport.
"I'm happy with my performance, happy that I made it to the final. I had some great wins. And now I just want to keep working, keep getting better,"

Rublev said in an on-court interview.
Stefanos Tsitsipas:
"My brother was rooting for Rublev today. He likes everybody in the top 10 except me"
World No. 6 Stefanos Tsitsipas of Greece wasn't left out and gave a short on-court interview as well. In it, he answered the question of whether his brother Petros was cheering for him.
"Today, he was rooting for Rublev. He really likes Rublev, Ernest Gulbis, and he likes everybody in the top 10 except me,"

the Greek tennis player said.
Tsitsipas also admitted his relationship with his brother is quite tricky. And it isn't effortless when they play doubles together. According to him, it can be very awkward, but Petros is his brother, and he believes he has to respect his opinion.
Shamil Tarpischev on Rublev's win:
"Rublev played very fast and deprived Tsitsipas of tenacity"
Shamil Tarpischev, President of the FTR, also shared his impressions of Andrei Rublev's victory over Stefanos Tsitsipas in the Rotterdam tournament's semi-finals.
"It's good to see Andrei becoming a menace at the ATP 500 tournaments. Rublev didn't let Tsitsipas play. Stefanos is tenacious, but he was deprived of it because Andrei played very fast. Easy enough."
Tarpischev said the Grand Slams are long tournaments, there are many matches, so it's harder for Andrei to play there. He admitted Rublev's mental system is not yet adapted. But Shamil believes it's only a matter of time and the Russian tennis player will learn. All he needs is time and a lucky draw.
Conclusion
We hope the final in Rotterdam, which, as already said, will be held today, will be an impressive and memorable one, and both Andrei Rublev and Marton Fucsovics will show their full potential and allow the spectators to enjoy excellent tennis.