Rafael Wins 13th French Open 2020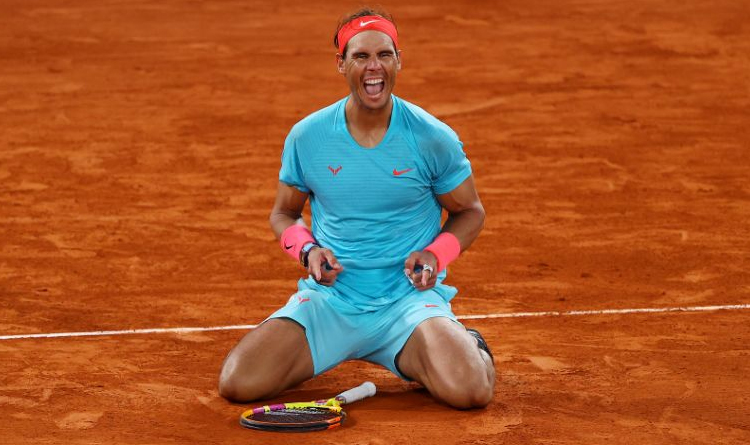 Julian Finney/Getty Images
34-year-old Rafael Nadal on Sunday delivered a great performance at the French Open 2020. He outplayed Novak Djokovic 6-0, 6-2, 7-5 in 2 hours 41 minutes.
On Sunday, Rafael Nadal won 13 French Open title. This equals to the Federer's record of 20 grand slam titles for men's singles. After the match, she said:
"Win here means everything to me. Today is just Roland Garros win. I spent here some of the impressive moments in my tennis career. I played at the highest level when I required to play at my highest level. Thus, that is something I am proud of"
Nadal Claims COVID Pandemic Changed His Victory
Rafael was happy after getting 13th Roland Garros title. But he also shared the pain coronavirus pandemic and claimed that the pandemic changed his victory.
Nadal said:
"We are facing one of the worst situations COVID-19. It is still a sad situation across the globe. I triumphed the tournament, and I am super happy. But it has not happy as usual due to Corona. We are lucky enough to be able to practice, play sport, and have a tour. Just keep going and stay positive. Together, we will get through this"
"We cannot thank enough Roland Garros, ATP, the US Open, and others that made huge efforts to organize events under these tough circumstances. But I really hope that the current situation improves soon"
Federer and Novak Sends Heartwarming Message to Nadal:
"Today, Rafa displayed why you are the prince of clay. I was outperformed by the better player. I experienced it in my skin. I am not impressed with my performance"

Novak Djokovic
"He hope that the 20 number is another milestone in their incredible sports journey. I think we have pushed each other to become better players"

Roger Federer
Rafael Nadal triumphed the men's singles title at the French Open 2020 in 13 of the previous 16 years. It was the third victory of Nadal against Novak Djokovic in the finals.