Paire opens up on tennis, 'exceptional' Safin, the vision of success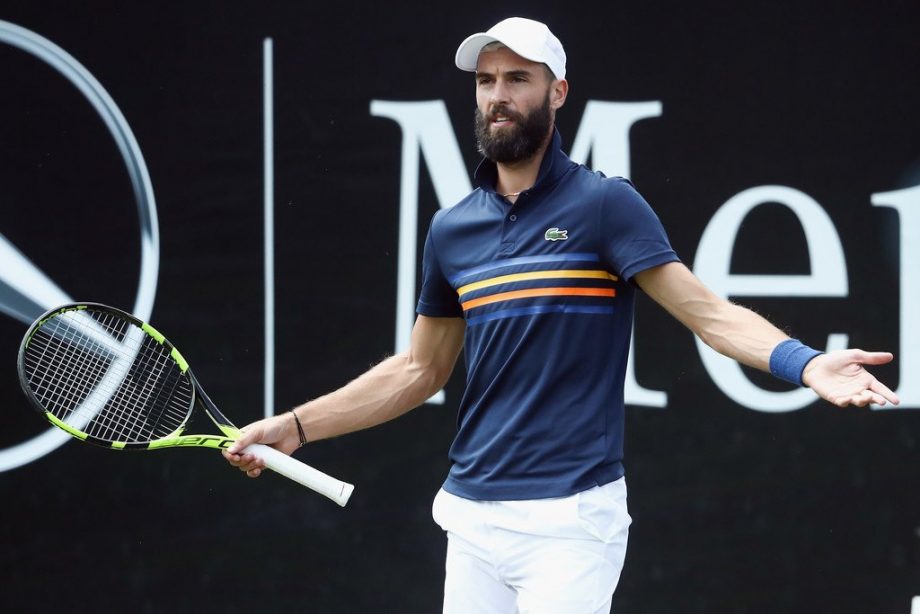 Benoit Paire during one of his matches
World No. 31 Benoit Paire has the best tennis beard and is one of the world's most charismatic players. His tennis is a firestorm of stunning shots and broken racquets. You never know whether he will fight like a man possessed or leak the match like he has more important things to do.
He regularly argues with the umpires and just as periodically asks for something to eat on the court.
What rules does he follow, and what goals does he pursue on the way to success? And does he even need to succeed?
No need to win Grand Slams and be at the top of the world rankings?
At the end of last year, Paire wrote an essay for the new issue of Racquet magazine, explaining why he would never trade this life for Grand Slams and the title of world number one.
"For me, tennis has always been a game. And it just happened to be my job. But I play primarily to have fun on the court and to bring it to the spectators. My game is perfect for that. I enjoy the crazy shots and the reaction of the crowd,"

the Frenchman began.
The athlete admitted, of course, when you mess up, you look like a total jerk. But when you get it right, it's incredible. Paire said he tries all kinds of strokes during training, and he has been doing it since he was a kid. Sometimes he was bored during training, but as soon as he managed to perform a rare trick, a smile would immediately return to his face. According to Benoit, he felt this was his particular skill.
"As a kid, my idols were Marcelo Rios and especially Marat Safin. Marat's character is mine in general. I wanted to be just like him. To be as charismatic on the court and hit perfect shots. I tried to emulate his backhand. And in general, I see myself in him: he was nervous and emotional, just like me. And he ended up being remembered by the whole world – unlike some other players who won Grand Slams and became No. 1."
Paire believes Safin left his mark and gave people something that no one else did. Safinettes, for example. At the Australian Open, his lodge was crowded with tall blondes. At the end of the match, he was thanking the team, the camera was catching his lodge – and it was all butts. In his opinion, it was funny, crazy, and cool.
Paire:
"Why do I have to torture myself to earn a little more?"
The other day, Benoit Paire, who has lost his last four matches and is raising questions about his level of commitment, gave another short interview in which he commented on his tournament mindset. The Frenchman took four games from first seed Stefanos Tsitsipas at this week's tournament in Acapulco, Mexico.
"I lost in the first round, and that's fine. I can get out of the bubble quickly and have a good few days before Miami. I don't really care about tennis right now. My goal for every tournament is to get out of the bubble,"

explained Paire.
He also revealed he arrives, makes some money, and goes on his way. It pays 30,000 to win an ATP 250 tournament, and the Frenchman gets 10,000 for the first round. In his opinion, there is no point in torturing himself to earn a little more.
Avoided disciplinary sanctions from the French Tennis Federation, but received a fine of €5,500 from the ATP
During the tournament in Buenos Aires, which took place on March 1-7 this year, one such provocative situation occurred and caused another scandal. Naturally, the leading player involved was French tennis player Benoit Paire.
In his second-round match against Francisco Cerundolo, Paire defiantly spat on the court and swore, and ended the game with a double fault. The second served to be executed while the ball boy was still picking up the ball after a miss from the first. Immediately after the defeat, the Frenchman wrote a tweet dedicated to him.
Following the incident, the FFT Ethics Committee stated the incident in Argentina.
"The behaviour in question is contrary to the values of tennis set out in the FFT Code of Ethics (respect for the game, for sports facilities and equipment, for the rules, for themselves and others, for the various organisations and their country; fair play; self-control). The Committee also notes the high-level players' status, reputation, or income doesn't exempt them from upholding the values of tennis; rather, they have a special responsibility to promote these values, especially among young people,"

the statement said.
Thus, the Committee urged Paire to "always adhere to the values of tennis and in the future to behave more acceptably as befits a player of his calibre." Simultaneously, the Committee took note of the letter of apology received from Paire and decided that "at this stage, there is no need to refer the case to the competent disciplinary authorities."
According to RMC Sport, citing L'Equipe, Paire acknowledged breaches of the Code of Ethics in an email of apology. He expressed his "desire to mend his ways" and referred to the "epidemiological crisis caused by Covid-19, which caused psychological fatigue and lack of training". It, according to Paire, "explains the nervousness and tension."
Thanks to this apology letter, world number 31 has avoided being sanctioned by the FFT for his behaviour during the time. However, the ATP did fine Paire €5,500 for this behaviour.