Kournikova's daughter tries on an outfit for Wimbledon, and Serena's Olympia takes tennis lessons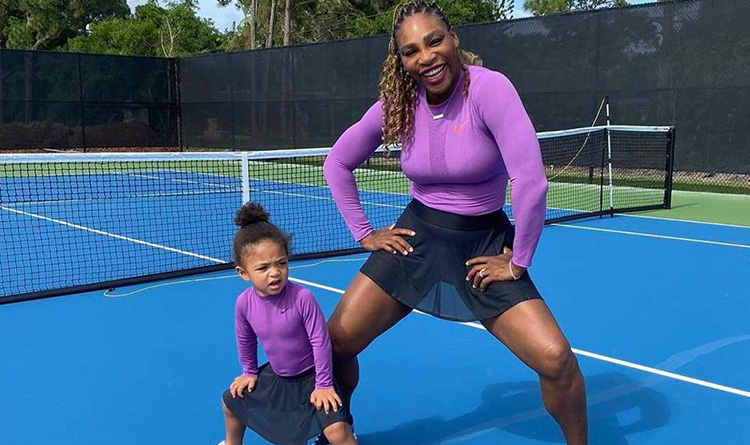 Instagram
Kournikova's youngest daughter is trying on a tennis outfit, while Serena's heiress is already throwing a racket onto the court.
Serena Williams decided that her three-year-old daughter is ready for her first steps on the court. And the former first racket of the world, Anna Kournikova prepares a great tennis future for Masha's youngest daughter.
Serena Williams' daughter, Olympia Ohanian, who turned three in September, is already an experienced tennis fan.
Mom took her to New Zealand and Australia, where the girl attended tournament matches in Auckland and Melbourne. After a break in the tennis calendar, Olympia participated at the US Open and Roland Garros. And now Serena announced that Olympia had started taking her first tennis lessons. Furthermore, her coach was not her mother but a professional instructor.
Serena Williams even posted a video of her waiting for her daughter after her first tennis lessons in the stories of her Instagram: "The lady who teaches Olympia has no idea that I'm the mother of her student. So let's see how things go. "Before her first big lesson, Olympia watched some videos of her mom playing at the US Open. "She watched very carefully, although she generally prefers cartoons," added Serena. – I am a responsible mom and take tennis technique seriously. In any case, it is critical for me to make sure that the instructor teaches Olympia well. So, of course, I will follow these lessons".
It is interesting that in the summer, preparing on her home court for the US Open, Serena Williams had a photo session with her daughter and then posted photos and videos on Instagram. Olympia was not yet involved in tennis at that time and at that moment did not know at all what to do with the racket. Therefore, after filming, I just threw her onto the court, and the eminent mother had to pick her up after her daughter.
In general, the three-year-old Olympia seems to have gone to her mother in character.
Judging by the videos that Williams posts on her social networks, the girl is growing up independent and self-confident. She does not stand on ceremony even with her parents. "Olympia, can I have a strawberry?" Williams turned to her daughter. "No!" – answered the heiress of the 23-time champion of the Grand Slam tournaments.
However, Anna Kournikova and Enrique Iglesias are raising three children. Twins Nicholas and Lucy were born in December 2017, and their youngest daughter Masha was born in January 2020. Although Kournikova has repeatedly said that she is happy in her personal life and does not pull her back to the court, apparently, tennis does not let her go.
The Russian woman posted on her Instagram page a photo of her daughter Masha, where she poses in a snow-white outfit. "Wimbledon, I'm coming!" – either as a joke or in earnest, Anna signed this picture.
So, Wimbledon, meet the future champions! However, we will have to wait a little bit – about 15 years. But for a tournament with a 143-year history, some 15 years is not even a period.