Hubert Hurkacz defeated Sinner in the Miami final to take his third career title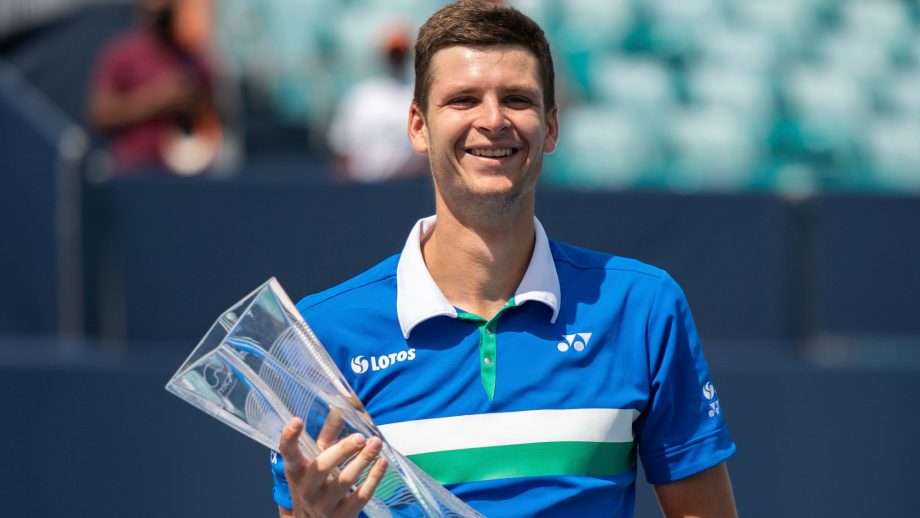 Hubert Hurkacz with the award for winning the Miami tournament
The winner of the WTA 1000 Miami Open tournament, which took place on open hard courts in Miami, the USA, from March 23 to April 4, became the world's current first racket, Ashleigh Barty. As you know, there was also a men's draw at the tournament, where 96 participants were also announced. The only difference was that for men, this tournament was stated under the category "ATP Masters 1000." The prize pool amounted to the same 3 million dollars. Who became the strongest among men, and how did the ATP rating change after the end of this tournament?
Hurkacz won his first Masters and will now make his debut in the top 20
Hubert Hurkacz, the 37th ranked player in the world and three-time ATP tournament winner, beat Jannik Sinner 7-6, 6-4 in Miami to capture his third career title and first Masters title. He's the first on tour to take two titles this season. The balance of his finals at Tour level is now 3-0.
Hurkacz, who has beaten four top-20 and two top-10 players in the tournament, has already made his world top-20 debut. He's now the No. 16 and the first Pole in the top 20 since Jerzy Janowicz, who was last ranked there in March 2014.
24-year-old Hurkacz became Miami's youngest champion since 2007, when the 19-year-old Novak Djokovic, now an 18-time Slams champion and world number one, won there.
His final opponent, the 19-year-old Sinner, in turn, will move up to No. 21 at the end of the tournament. It's the highest ranking of his career.
In his short interview after the final match, Hubert commented on winning two Florida titles in 2021 – the ATP 250 in Delray Beach and the Masters in Miami.
"I spent half of last year here. I trained in the hottest weather in the spring and summer, so I think that helped me play here now in pretty tough conditions. The balls and the court were prolonged, and the wind was blowing from side to side, so it wasn't easy."
He also explained how he successfully served for the title on his second attempt.
"When I was serving, the balls seemed very slow. It wasn't easy, and I really wanted to get a couple of free points because Jannik is great in the ready position. It was a tough game."
Sinner to Hurkacz:
"Hubi, my heartfelt congratulations on your victory. You showed your talent well"
Jannik Sinner, who lost to Hubert Hurkacz in the Masters final, addressed him at the awards ceremony and congratulated him on his victory at such a significant tournament.
"Hubi, my heartfelt congratulations on this week and a half. You have shown your talent. But more important to me is the kind of person you are. I have to say you're probably my best friend on tour. Maybe we should play doubles together more often,"

Sinner said at the award ceremony.
Hurkacz and Sinner about the Miami tournament in general and their plans
Both Hurkacz and Sinner commented on their stay in Miami the week and a half and shared their emotions from their play at the tournament.
Hurkacz, for example, stated he played the best tennis of his life at this tournament. In his opinion, he played steadily throughout the tournament, getting through the round and getting even more fired up for the next one.
"My game is improving. My coach and I are working a lot, and I'm glad I'm doing well here. Some things still need to improve, and I'm just trying to get better every day. From the beginning of the season, I believed in myself. And a victory like this adds motivation and confidence to my abilities. After all, I overcame some challenging moments along the way."
As for Jannik Sinner, he said he came to this tournament to win, as many players in the top 10 of the world ranking didn't participate there. However, he could only execute his plan until the final – there, he had already suffered his only defeat.
"I came to the tournament determined to win. We knew that Rafa, Roger, Novak, Tim didn't play. It was an opportunity for a lot of people. So I came here to win match after match, to play good tennis. As the tournament went on, I was able to win. In the final, no,"

said the Italian.
This year, Jannik also felt good on the court since his first tournament in Melbourne, where he won the title. For the first time in a long time, the tennis player started winning right away, even though he hadn't played at all before. So in that respect, Sinner believes he has grown.
But then there was the match against Bedenet in Montpellier, when the Italian began to play very passively, showing tennis that wasn't his own. After that, Sinner and his team's main concern was to get his game back. They were trying to get their mentee to play more aggressively, serve better. Today, in his opinion, the serve wasn't perfect.
Starting in Dubai, the game began to come back slowly. But, of course, Jannik admits there is still a lot of work ahead. He needs to understand when to attack and when not to attack.
"To be honest, I'd rather spend the next 30-40 matches like today. And then we'll look for solutions if we need to. In any case, the tournament has gone well. Although, of course, I don't want to play finals – I want to win titles. But today was not my day. I need to accept that, get back to work, and see what I can achieve on the clay."
Hubert Hurkacz:
"Thanks to Swiatek, I and other young players from Poland believe that winning big titles is possible"
Hubert Hurkacz also commented on how he was influenced by his compatriot's success, Iga Swiatek, who won Roland Garros last year.
"I was very proud of Iga. Her victory at Roland Garros was amazing. I think she gave everyone confidence: other young players and I from Poland believed that winning big titles is possible,"

shared the Pole.
Hubert hopes his play will also inspire the Poles and the spectators enjoyed his tennis. According to him, he's very, very proud to be a Pole, and he thanks everyone for their support.
How has the ranking changed after the tournament?
The ATP rankings have been updated. Because of the coronavirus pandemic, the points are partially deducted. At the end of the Miami Masters, Roger Federer, who didn't defend the 2019 title, dropped one place. 2019 finalist John Isner fell out of the top 30 for the first time in 10 years.
This year's tournament champion Hubert Hurkacz made his debut in the top 20, and 19-year-old finalist Jannik Sinner dropped to the top 30.
Daniil Medvedev became the fifth player in history to score 10,000 points.
By the way. American Reilly Opelka, winner of two ATP tournaments and simply one of the tallest tennis players in history, commented on Hubert Hurkacz's victory at the Miami tournament that put the Pole in the top 20.
"Now let's remember how I predicted in Australia that he would finish the season in the top 10!"

Opelka, himself ranked 45th in the rankings, tweeted.