Hasty decisions, a combination of injuries and unexpected return: Gunneswaran's path after recovery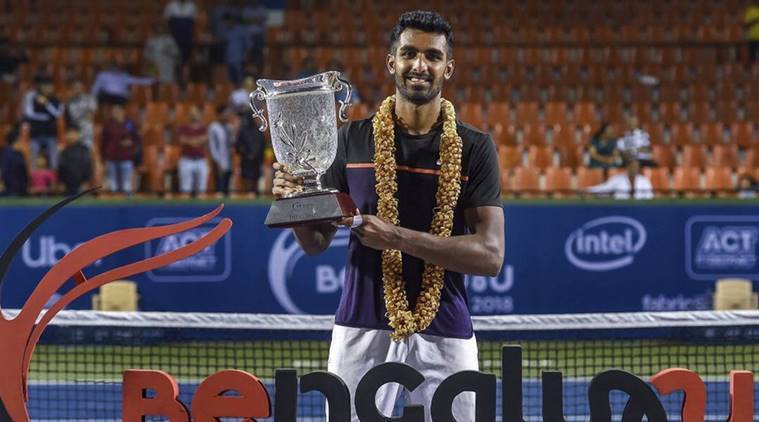 indianexpress.com
Everyone knows that the 2020 pandemic caused by Covid-19 produced a lot of problems and obstacles for all people, including athletes. For many tennis players, 2020 was, one might say, indifferent, since due to the postponement or cancellation of tournaments, they lost the opportunity to show themselves, thereby receiving points and raising their positions in the world ranking. However, some players still have some benefit for themselves.
Prajnesh Gunneswaran, 128th racket of the world in singles, took advantage of this break to fully recover from numerous injuries that have plagued him for a year. It should be noted he did it very successfully as, after this rehabilitation, he showed himself perfectly in competitions in recent weeks.
An exceptional finish in Orlando last Sunday followed another final in Cary, North Carolina, a week earlier. Having long taken part in the ATP Challenger Tour tournament, which is the second-highest rung of the professional tennis circuit, Prajnesh last achieved such a result in Cary almost a year and a half ago, in April 2019. These latest achievements brought the Hindu again to 128th place in the ATP world ranking, thus returning him to first place among his compatriots. At the beginning of this year, he was forced to surrender this position to Summit Nagal.
Despite all the successes, Gunneswaran is in no hurry to enjoy and make impulsive decisions. Although Challenger series events are still being played in South America, the 31-year-old Hindu chose to stay in Florida to begin preparations for 2021. As already known, the organisers of the competition in Australia nevertheless agreed to conduct training during quarantine, thereby allowing players to prepare well for the start of the new season. Suppose Prajnesh decided to forgo the opportunity to earn several extra points and bump up the rankings. In that case, it's because he learned the most important and at the same time difficult – to be reasonable in his approach to picking and playing tournaments.
He took 75th position in the world ranking in April last year, when he first noticed a twinge in his shoulder. However, the Hindu ignored this, hoping to hold several more tournaments.
In his interview, he shared the impressions of this situation and spoke about how he felt at that moment.
"At first I was doing well, so I wanted to keep playing. I was determined to perform at the Olympics, and it was the main career goal for me,"

he said.
"However, by playing through the injury, I only made myself worse. Without any rehab work done, shoulder pain was accompanied by a wrist injury. It took me out of the game for several weeks, and when I still started, I tried to show myself at the tournament without too much practice, having received another pain – an elbow injury."
As a result, this set of injuries cost Prajnesh Gunneswaran too much. People often make this kind of mistake without realising that the consequences of irresponsible decisions can be much worse than they imagine. The Hindu admitted if he had taken at least three or four weeks of a break after his first shoulder injury, he would have returned to the game much faster. However, Prajnesh was so desperate to stay at the level he was at, so he made a very hasty decision. Finally, the Hindu didn't recover from the injury and didn't win any match, thereby remaining in the place in the ranking where he was.
While Gunneswaran continued to play further, hoping for the best, his injury meant he was at a disadvantage. His go-to shot – the forehand – was thus neutralised, and the damage to his injured arm meant he couldn't deliver any significant blow to the opponent. And this, in turn, simply prevented him from moving forward.
"When I played the Australian Open, I was hitting my forehand really flat. That's the exact opposite of how I usually play. Of course, I managed to remain competitive (he came through the qualifiers to reach the main draw as a lucky loser) thanks to my serving and my backhands, but it was not the same without my best shot,"

said Prajnesh.
Gunneswaran also remembered and told something about the games at the Tour level. He believes the main difficulty has always been that there were any easy games. Prajnesh said that even at the beginning of the year, he was about 70 per cent of where he needed to be. He played against guys who got into the top 100. In his opinion, you should be almost perfect when you play with such. To compensate for the fact that he wasn't able to put a lot of spin in his shots, the Hindu tried to be really aggressive to avoid getting into a defensive situation and finish points early. However, it's tough to do against such a high-quality opponent when you don't have a backup shot.
As Prajnesh limped to a 5-7 overall record matches, the pause of international competitions due to the coronavirus pandemic was a slight relief for him. He said he couldn't train for the first few months because of the lockdown in India, but it ultimately benefited him as he was able to let all his injuries recover. Gunneswaran also admitted he wasn't in the gym, but his body received everything necessary. Of course, by the time the isolation ended, his physical condition had suffered, but after more than a year he was finally able to hit a high spin forehand pain-free.
It doesn't mean he's perfect. Gunneswaran's lack of physical conditioning meant he didn't hit the ground running on his return to the tour. He admits if he had simply focused on his recovery last year instead of pushing himself, the situation would have been much better.
By the time he returned, in October, the Hindu rating had dropped to 152nd position. It's the worst result in two years. This place in the world ranking practically didn't allow him to get a qualifying spot in an ATP Tour event. Thus, Prajnesh's priority when returning was simply to get enough match practise under his belt.
Gunneswaran also admitted one of the main problems he faces is simply the lack of practice in holding matches.
"My body feels good physically, but at the same time I still have technical problems, such as, for example, my toss. That's something that will go only if I play consistently,"

he says.
Despite his remarkable success over the past couple of weeks, Gunneswaran is eager to return to the ATP tour next year. He always believed he had all the necessary qualities to break into the top 50 and win matches at this level. Prajnesh also considers that to be at this level, you need to win the best players. The reason why the Hindu plays tennis professionally is to test himself against the best players in the world, and he won't get a chance to do this only at the Challenger level.
That's why he decided not to go to South America.
"It makes no sense to play the Challenger tour just to improve your rating a little. At this stage, even if it were so tempting – to get additional points, I don't want it to happen due to my preparation for the next season. I would rather focus on getting stronger and getting into better physical form over the next few months than trying to get the title, and eventually repeat my previous injuries and miss next season,"

admitted Gunneswaran.
Well, we wish the Hindu a fast recovery and will follow his subsequent games.