Federer's coach: "When you saw him, you would say he wasn't injured"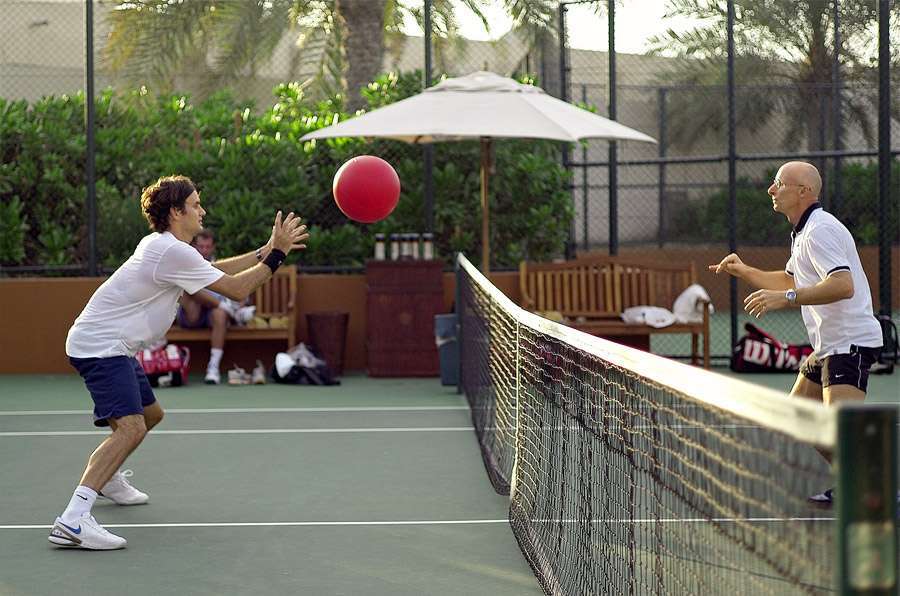 Pierre and Roger during the training
Pierre Paganini, fitness coach of the former first racket of the world, Roger Federer, in his interview, shared details about the Swiss's healing.
Paganini said that a significant difference compared to 2016 is that when he took a break after the Wimbledon 2016, the muscles kept in shape. We recall that Federer returned to the Australian Open 2017. Now Roger and his coach have taken a long break, and the condition has worsened significantly. It was quite a long time passed between the first operation and July when they gradually began. However, the Swiss muscles were no longer in the same condition. Balance in the body was also disturbed. Pierre said it was impossible to start work immediately, and it took more time to recover. He and his ward finished the season together and tried to do everything possible. The fitness trainer said the repetitions are essential so that the body learns to maintain a certain level. And then you need to pause and see how the body reacts.
By early October, the team began training from the lowest level. But they immediately tried to include coordination exercises. Paganini said they needed to find out what opportunities there were. How will the body react to one or the other? And in a few approaches? What if he's okay? What if he's tired? According to Pierre, this is a long journey – from the slightest movement after the operation to returning to tennis.
"He trains almost as usual. When you saw him, you would say he wasn't injured, and everything was in order. But don't forget: we begin to work on explosive velocity only after completing all stages. It's the most critical thing in the tennis movement. We have been working on it not so long ago, and it's now that you can see whether the puzzle has developed. Now we're at this stage. It's good for him because it took incredible patience to get to this moment. It's crazy if you remember everything."
The fitness coach also said Federer is at the same level as before the injury in terms of strength. However, it's not only a matter of muscle volume but also of universality. He noticed we shouldn't forget that tennis is not a power sport. Force training is used only to achieve individual goals on the court. In tennis, according to him, you can act differently. However, Pierre has nothing to hide. He said they're working hard on speed because they know well that it will be necessary.
"Roger only plays when he knows he can play well again. Now we need to see how the body reacts. It's vital to protect him. By this time, much had to be done to return to the court. We shouldn't compare it with 2016. It's already a big victory if he can go to court, play, and then say: "I am fine. I look forward to the next match." At the moment, it's only clear he will play in Doha, then we will see about Dubai."
Pierre Paganini also said he forces the Swiss to continue to play on the tour.
"When he decides to leave, he will go because he can't or won't play anymore. Of course, there is a limit. Now he's training very hard because he wants to know where this limit is. And how close he's to it. And Roger Federer says that. We're talking about someone incredible. What is often underestimated is his patience. Without this patience, he would have finished long ago. It would be best if you had excellent personal qualities and mood to continue to train so enthusiastically. And play matches too."
The coach of the former first racket of the world explained that all this would be impossible without a passion for sports. According to him, Roger depends on it as much as his team. Otherwise, he would stop the training if he's offered. Paganini believes when a player at almost 40 years old has to do exercises that the 70-year-old will perform without problems, and he rejoices that Tuesday turned out better than Monday – if this is not passion, then what? We need to think positively and find the right combination of strategy and spontaneity. People will say:
"You say it because you are in Federer's team."
But he knows it's true. The fitness coach himself is continuously surprised and sometimes asks himself why Roger continues to do all this.
According to Paganini, this is phenomenal and objective. When Federer realized the operation went well and jumped the first barrier that his team set for him in the first exercise, he experienced almost euphoria: he changed crutches to borders. In the first exercises, he felt insecure. But then he was very proud that he jumped. Pierre believes when people see this, they're overwhelmed with emotions. Sometimes it seems to him he is younger when he watches his ward train.
"There are parallels between passion for the game and desire for victory. You can also play enthusiastically without winning. But then the question is how long this passion will last. I can say Roger will never risk health. "It's imperative for him to be healthy in the next stage of life. He has that awareness. He won't overdo it unnecessarily. He's not blind. He's brilliant and visionary. Now he's specially engaged in strengthening and knee and body force training, with a log and without, with jumps, barriers. It always depended on the level at which it was located."
Not all of us have such fortitude and patience. We are glad the former first racket of the world is recovering and sincerely hope that Roger Federer will again delight the audience with his great tennis.