Emotions above sport in the ATP match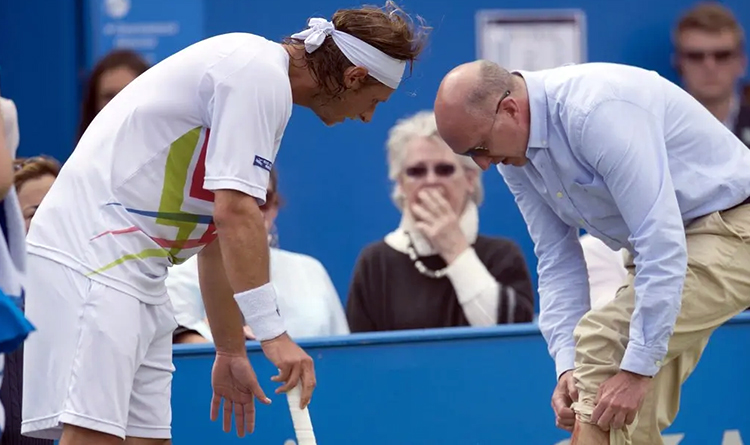 Getty Images
One ATP tournament in London ended in a non-standard way. David Nalbandian led 7: 6, 3: 3 and 15:40 in the match against Marin Cilic. After receiving a blow-through on a breakpoint made by Cilic, an angry Argentinian player approached the chair with the line arbiter. David threw out all his negative emotions, so pieces of plastic chair were scattered, and one of them hit the judge's shin.
The blood began to ooze from his leg
David probably thought that the shield was strong enough to withstand his blow, or there would be no contact with the judge. Few believe that Nalbandian deliberately wanted to injure the judge. However, the referee's feet were close to the shield, so it was almost impossible to avoid contact.
David Nalbandian, in the interview:
"I made a mistake, I apologize. I apologize to the arbiter. I didn't want to hurt him. This is an unpleasant moment, and once again, I want to apologize".
Tennis players are relatively often trying to vent their anger in this way. We have seen many broken rackets or hitting various objects with them. In the final of Roland Garros, Novak Djokovic, for instance, made a hole in the backboard of the playing bench, as a result of which the organizers had to remove the broken bench and bring in a new one. However, he did not injure anyone.
British commentators suggested that the match was over
Arbiter Fergus Murphy quite often appears in certain scandalous situations; suffice it to recall the game between Dmitry Tursunov and Yarko Nieminen at Wimbledon 2006 – the Russian called the referee an "idiot" for numerous strange decisions. After consulting with the supervisor ATP Tom Barnes announced that Australian tennis player was disqualified, and the trophy went to Cilic.
David Nalbandian has lost all ranking points and prize money for this tournament. A tennis player may still have to pay a fine. Such cases rarely occur, but history also remembers other manifestations of unsportsmanlike behaviour among famous tennis players.