Called judge a thief and broke her racket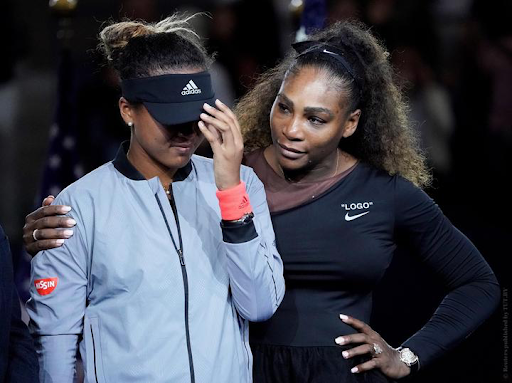 AP Photo/Julio Cortez
Serena Williams, the first world racket, who has won 23 singles Grand Slam matches in her career, is back on court after the birth of a daughter Olimpia and postnatal depression. She wanted to confirm her high status, which she received after winning the Australian Open.
However, the U.S. Open – 2018 did not work out for her. In the final of the championship, Williams lost to Naomi Osaka. During the match, the referee issued several warnings to Williams for prompting the coach. The famous tennis player replied that she would never cheat to win. After losing the fifth game, she dramatically broke her racket, for which she received a new warning. Being disappointed, she called the judge Carlos Ramos a "thief" – for the fact that he "stole" her point.
After this nervous match, Williams accused Ramos of sexism. She was sure that a male tennis player would never have received a warning for calling a judge a "thief."
"I've seen how men call judges. I'm here to fight for women's rights and equality and other vital things like that. And I think it is sexism that he took the game away from me when I called him like this".

Serena Williams
After these accusations, Serena Williams was fined for inappropriate behaviour at the U.S. Open Tennis Championships. She will have to pay $ 17,000 for a "tantrum on the court", insulting a judge and a broken racket.
Williams' behaviour has been often criticized by journalists and professional tennis players. Many experts think that she really threw a tantrum because she did not know how to lose.
A statement by the CEO of the Women's Tennis Association (WTA), Steve Simon, was released, saying.
"The focus was on whether different rules apply to match judging for men and women. The federation believes there is no difference in how men and women feel about their emotions and intend to work to assure that all players are treated equally".

 Steve Simon
Later, William's coach, Patrick Muratoglu, showed support for the tennis player.
"Of course, it's not pleasant to be in the epicentre of the storm, but I was not afraid. I haven't done anything harmful – just what all coaches do all year round. We all make mistakes. It was the worst day for Serena's team because she lost, and because of how it happened. But it was the best day for world tennis because now everyone is talking about it. So it all depends on how you look at it "

Muratoglu; Serena's Coach