India win three golds, but fall short of two medals from 2018 CWG: CWG 2022 Boxing Roundup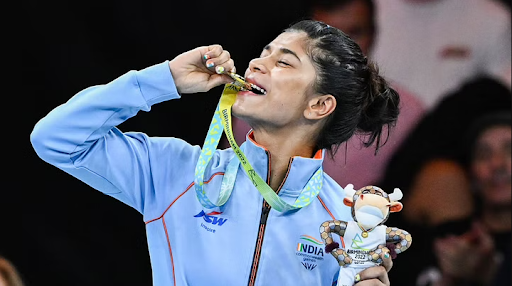 Nikhat Zareen won gold in the 52kg Boxing event at the 2022 Birmingham CWG
The emergence of new talents, the revival of experienced hands, and the poor performance of a few big names summed up India's performance at the 2022 Birmingham Commonwealth Games. 
India maintained its second place despite winning seven medals (three of which were gold), down from nine four years ago. Northern Ireland took first place with seven medals, including five golds.
Nitu Ghanghas (48kg), a two-time World youth champion, gave a good account of herself to win her first major title. On her debut in the CWG, she looked completely in control throughout the nine minutes, giving the home boxer no chance. She continued to dazzle in the ring with her sharp, accurate combination of punches and controlled the pace of the contest.
Nikhat Zareen, the World champion in 52kg, boxed with more confidence to win her first Commonwealth Games gold medal in 50kg and set herself up for greater success. The World Champion from India, punched down Carly MC Naul of Northern Ireland to win another gold medal for the country.
Nikhat aggressively attacked MC Naul who seemed unresponsive for minutes. During the second round, Nikhat allowed MC Naul to go after her but she counterattacked to make it look like a pre-conceived strategy.
While the promising Jasmine Lamboria (60kg) won bronze, Olympic bronze medalist Lovlina Borgohain (70kg) was eliminated in the quarterfinals, much to everyone's surprise. The comeback of two male boxers, Worlds silver medalist Amit Panghal (51kg) and Mohammed Hussamuddin (57kg), was inspiring.
Amit, who had a low period following his humiliating defeat in the Tokyo Olympics, fought back with renewed zeal and delivered a series of clinical performances to win his first gold after his silver in the 2018 Gold Coast CWG.
On the other hand, Panghal out-punched European Championship silver medallist England's Kiaran MacDonald by a 5-0 verdict in the men's 51 kg category. The 26-year-old Panghal had won a silver medal in the 2018 Gold Coast edition of CWG.
Meanwhile, Hussamuddin fought back from a loss in the National Championships final and overcame a left thumb injury to win his second consecutive bronze medal at the Games.
Sagar Ahlawat, a super heavyweight boxer who won silver on his international debut, was the surprise package of the tournament. Gifted with explosive power and good hand speed, Sagar tormented his opponents with his booming punches.
While underachiever Rohit Tokas (67kg) received a bronze medal to boost his confidence, Worlds and Asian medallist Shiva Thapa (63.5kg) was eliminated in the pre-quarterfinals, much to the dismay of many fans.