Matchday 14 Preview and Prediction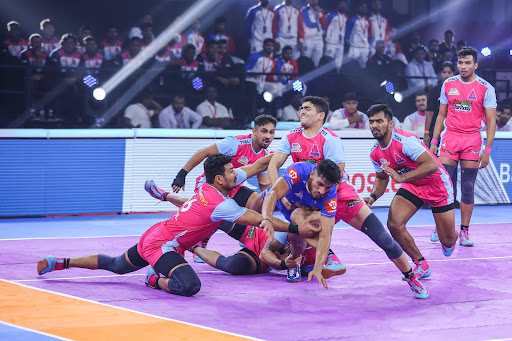 Jaipur Pink Panthers and Haryana Steelers will be in action on Matchday 14
A triple Panga night beckons once again in Season 9 of the Pro Kabaddi League at the Kanteerava Stadium in Bengaluru on Saturday as the U Mumba takes on Bengaluru Bulls to kickstart the evening.
It will be followed by matches between Jaipur Pink Panthers and Telugu Titans and Haryana Steelers and Gujarat Giants.
Jaipur and Bengaluru will be eager to stamp their authority at the top of the table while the Titans and U Mumba scramble their way from the bottom of the pile. For mid-table clubs like Gujarat and Haryana, the matches could serve as a momentum to catapult to the top half or can languish them towards the bottom.
Match 33: U Mumba vs Bengaluru Bulls
U Mumba will be banking on the raiding prowess of Guman Singh and Jai Bhagwan upfront while also relying on Ashish to notch up points. Defensively, they have Surender Singh and Rinku to respond with tackle points.
For the Bulls, it is the duo of Vikash Khandola and Bharat who have been entrusted to raid points and so far they have done well. Both of them have two 'Super 10's' to their name. Mahender Singh and Saurabh Nandal have picked up tackle points for fun as the opposition raiders have found it tough to grab points. 
Although U Mumba can pose a tough battle, they have a long road to cross before posing a challenge to Bengaluru Bulls. Hence, we predict an easy win for the latter.
Predicted Starting Seven
U Mumba: Surender Singh (C), Guman Singh, Ashish, Harendra Kumar, Rinku Hc, Jai Bhagwan, Kiran Laxman
Bengaluru Bulls: Neeraj Narwal, Mahender Singh (C), Bharat, Aman, Mayur Kadam, Saurabh Nandal, Vikash Kandola
Match 34: Jaipur Pink Panthers vs Telugu Titans
Arjun Deshwal has been entrusted to do the heavy lifting all alone in the raiding department for Jaipur Pink Panthers with the likes of Rahul Chaudhari, Bhavani Rajput, and V Ajith Kumar donning the roles of secondary raiders. Playing conservatively, the Panthers have been inflicted 'All Out' only once in the season so far. Credit should be given to their defenders as the likes of Ankush and Sunil Kumar have held their forte.
With only one win to their name, Telugu Titans have been on the receiving end of some crushing defeats like 25-45 and 26-46 losses to Bengal Warriors and Dabang Delhi respectively. Monu Goyat and Siddharth Desai will have to pick up more points in the raiding department while surging forward.
The two teams head into the encounter on the back of a contrasting set of forms. Jaipur has four wins on the trot to their name while the Titans are coming on the back of back-to-back defeats. Hence, we predict Jaipur to come out on top in this encounter.
Predicted Starting Seven
Jaipur Pink Panthers: V. Ajith Kumar, Arjun Deshwal, Ankush, Shaul Kumar, Abhishek KS, Sunil Kumar (C), Rahul Chaudhari
Telugu Titans: Surjeet Singh, Vishal Bhardwaj, Parvesh Bhainswal, Monu Goyat, Vinay, Siddharth Desai, Ravinder Pahal (C)
Match 35: Haryana Steelers vs Gujarat Giants
Haryana Steelers came the closest to defeating the unbeaten Dabang Delhi when they lost by a 36-38 margin. Meetu Mahender and Mohit Dahiya both clicked on the raiding department and the fans will be hoping for the same on Saturday. Defensively, they attack as a unit as all the players lunge forward for the tackles. 
Mid-table club Gujarat Giants have strengthened their raiding unit with Chandran Ranjit and Rakesh Sungroya scalping points whenever they surged forward. However, the best of their performances came against teams in the lower half of the table and they will be pumped up against ninth-placed Haryana Steelers.
The encounter between Gujarat Giants and Haryana Steelers promises to be a neck-to-neck tie. It all boils down to whose day it is. The defense of both the teams has to improve a lot while their raiders have rarely slacked in the tournament so far. We predict Gujarat to win the contest in a high-scoring match.
Predicted Starting Seven
Haryana Steelers: Manjeet, Nitin Rawal, Meetu Mhahender, Jaideep Kuldeep, Mohit, Monu, Joginder Singh Narwal (C)
Gujarat Giants: Chandran Ranjit (C), Sandeep Kandola, Parteek Dhaiya, Sourav Gulia, Rakesh Sungroya, Shankar Gadai, Arkam Shaikh