​Dabang Delhi keep their unbeaten run intact with a 30-30 tie against Tamil Thalaivas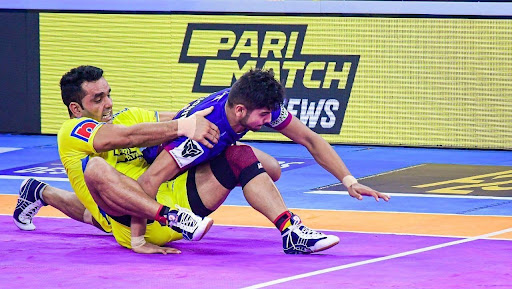 Naveen Kumar escapes a tackle attempt from Surjeet Singh in a PKL match on Saturday
Dabang Delhi kept their unbeaten run intact by sharing the spoils with Tamil Thalaivas in a 30-30 tie in Match No. 27 of PKL Season 8 on Saturday. Naveen Kumar and Manjeet picked up a 'Super 10' each but couldn't steer their respective sides to victory.
This was Tamil Thalaivas' third draw in PKL 8 as they climbed to the fifth spot in the points table with 14 points from 5 matches. Dabang Delhi, on the other hand, remained atop of the table with 21 points from 5 matches and remains the only unbeaten team in the tournament.
Delhi picked up the first point in the game as Naveen Kumar extended his legs to pick up a bonus point while Manjeet replied with a bonus of his own to kickstart things for Thalaivas.
While Naveen Express continued picking up one point apiece with his lightning quick touches, Delhi defenders made cheap errors to concede points as the scoreline was leveled till 7-7. Mohit Jakhar's thigh hold on Vijay Malik earned the Thalaivas their first tackle point before Manjeet got a touch on Jeeva Kumar to give them a two-point lead.
However, Naveen's touchpoint while surging forward and a tackle from Sandeep Narwal on Manjeet leveled the proceedings again. Surjeet initiated a frontal block on Naveen and the rest of the defenders tumbled him upside down to send him on the bench for the first time.
It seemed as if Naveen would have to spend the entire first half on the bench as Thalaivas' defenders and raiders trimmed the Delhi players on the mat one-by-one.
However, Jeeva and Sandeep successfully 'Super Tackled' Manjeet to revive Naveen and the latter completed his 26th 'Super 10' in a row in the first half itself. Naveen ousted Athul MS in the final raid before the stroke of half-time as Delhi went into the break leading 16-14 and the Thalaivas found themselves down to a solitary man.
Bhavani Rajput earned a bonus alongside a touchpoint to level the proceedings. But Naveen's wily touches while raiding and Joginder Narwal's ankle hold on Manjeet resulted in Delhi bagging their first All Out as the scoreline read 20-17.
Delhi didn't look back and extended the lead to 28-20 courtesy of Sandeep's ankle holds, Jeeva's dashes, and Naveen's ability to escape from tackles. A combination between Sagar's ankle hold and Surjeet's frontal block on Naveen earned Thalaivas a Super Tackle. And, a bonus and another Super Tackle on Vinay further reduced the deficit to only three points.
Athul MS went into the opposition half in a Do-or-Die raid but Manjeet Chillar's thigh hold took him down. Naveen was revived but had to go back to the bench in his first raid itself as a Super Tackle initiated by Sagar's back hold restricted the lead to only two points.
With five minutes of play left, Manjeet's running hand touch on Joginder Narwal's chest further reduced the deficit to one point. Ashu Malik entered the opposition half in his Do-or-Die raid but got crowded out as the scoreline got leveled at 29-29. And, Ajinkya Pawar's successful Do-or-Die raid put the Thalaivas upfront for the first time in the second half.
Former Indian captain Ajay Thakur stepped in and earned Delhi a bonus but Thalaivas successfully reviewed the decision and retained the lead.
Ajinkya wasted crucial moments in the mat to play Delhi in a Do-or-Die raid. But, Mohit couldn't control his excitement and initiated an advanced tackle on Sandeep thereafter in a failed attempt to throw away the lead.
Manjeet remained content by just strolling past the baulk line in a four-man Delhi defense to ensure the final scoreline read 30-30. Tamil Thalaivas will next square off against UP Yoddha on Tuesday while Dabang Delhi takes on Telugu Titans on Wednesday. Both sides will be gearing a win after dropping crucial points in their fixture today.