Royal Challengers Bangalore: Fixture list for IPL 2021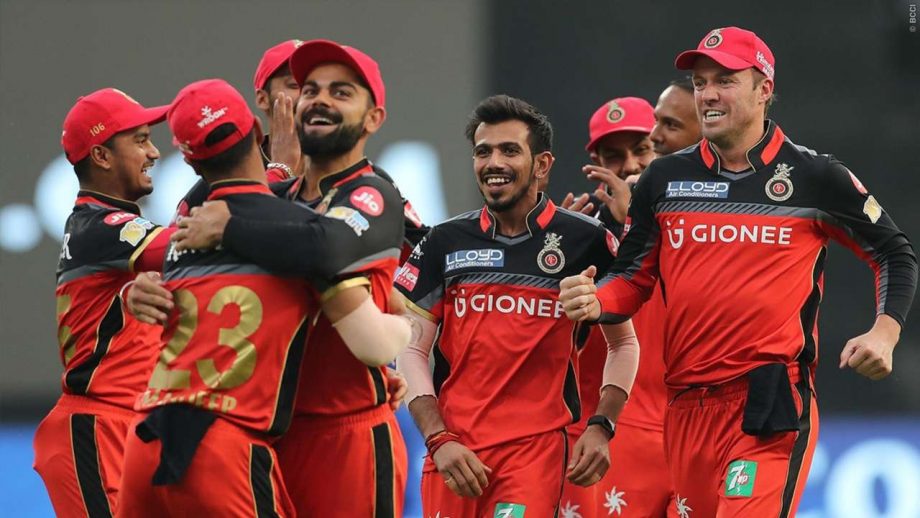 Royal Challengers Bangalore is easily the most followed team in the league with star players like Indian national cricket team skipper Virat Kohli and former Proteas skipper AB de Villiers mainstays in the squad for more than a decade. The coveted Indian Premier League trophy has eluded RCB and their enthusiastic fan group often referred to as the 'Bold Army' for 13 seasons with the Bangalore-based team ending up as runners-up thrice and have made it to the knockout stages 6 times in 13 seasons of the league.
RCB ended up splashing a lot of money in the auctions as they bought the New Zealand bowling all-rounder Kyle Jamieson for Rs. 15 crores along with Australian batting all-rounder Glenn Maxwell costing Rs. 14.25 crores as well. The Kohli-led squad has also added Daniel Christian, Daniel Sams, Mohammed Azharuddeen, and many more players in the mini-auction.
The revamped RCB squad will face defending champions Mumbai Indians in the season opener on 9th April at the Chepauk Stadium in Chennai as none of the eight teams featuring in the IPL this season will be playing a match at their home ground.
The Royal Challengers faces Sunrisers Hyderabad and Kolkata Knight Riders (in an afternoon match) at the Chepauk before moving base to Mumbai for just two matches.
RCB gets involved in a 'Royal Battle' as they face Rajasthan Royals at the Wankhade Stadium in Mumbai before taking on Chennai Super Kings in an afternoon match.
The Kohli-led squad then leaves for Ahmedabad where they play four matches at the Narendra Modi Stadium (commonly known as the Motera Stadium) with last season's runners-up Delhi Capitals, Punjab Kings, and return legs with the Knight Riders and Punjab Kings scheduled at the same venue before RCB leaves for Kolkata.
The Royal Challengers play five matches at the Eden Gardens Stadium in Kolkata in the most crucial phase of the tournament. Sunrisers Hyderabad and Delhi Capitals are the first two opposing teams with an afternoon match against Rajasthan Royals sandwiched in the middle of the five matches. RCB end their league stage fixtures with blockbuster matches against Mumbai Indians and Chennai Super Kings as Kohli would be looking to finally lift the IPL trophy this season, albeit behind closed doors.
Here is the full schedule of the team for the upcoming season:
| | | | |
| --- | --- | --- | --- |
| Date | Opposition | Time | Venue |
| 9th April (Friday) | Mumbai Indians | 7:30 p.m. | Chepauk Stadium, Chennai |
| 14th April (Wednesday) | Sunrisers Hyderabad | 7:30 p.m. | Chepauk Stadium, Chennai |
| 18th April (Sunday) | Kolkata Knight Riders | 3:30 p.m. | Chepauk Stadium, Chennai |
| 22nd April (Thursday) | Rajasthan Royals | 7:30 p.m. | Wankhade Stadium, Mumbai |
| 25th April (Sunday) | Chennai Super Kings | 3:30 p.m. | Wankhade Stadium, Mumbai |
| 27th April (Tuesday) | Delhi Capitals | 7:30 p.m. | Motera Stadium, Ahmedabad |
| 30th April (Friday) | Punjab Kings | 7:30 p.m. | Motera Stadium, Ahmedabad |
| 3rd May (Monday) | Kolkata Knight Riders | 7:30 p.m. | Motera Stadium, Ahmedabad |
| 6th May (Thursday) | Punjab Kings | 7:30 p.m. | Motera Stadium, Ahmedabad |
| 9th May (Sunday) | Sunrisers Hyderabad | 7:30 p.m. | Eden Gardens, Kolkata |
| 14th May (Friday) | Delhi Capitals | 7:30 p.m. | Eden Gardens, Kolkata |
| 16th May (Sunday) | Rajasthan Royals | 3:30 p.m. | Eden Gardens, Kolkata |
| 20th May (Thursday) | Mumbai Indians | 7:30 p.m. | Eden Gardens, Kolkata |
| 23rd May (Sunday) | Chennai Super Kings | 7:30 p.m. | Eden Gardens, Kolkata |