Manish Gur commented on the work of Hockey India in recent years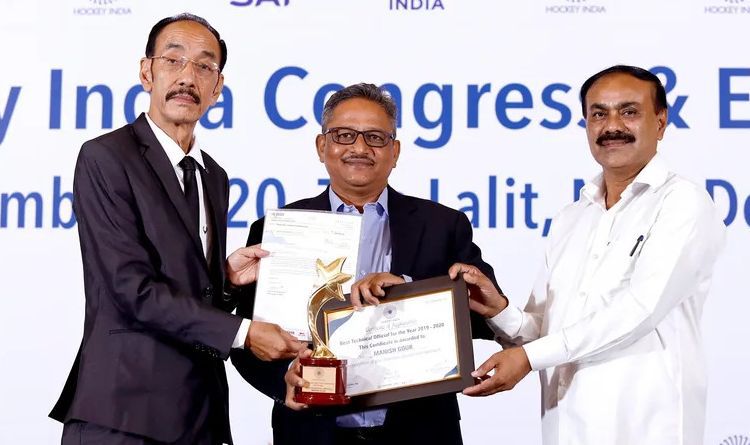 hockeyindia.org
Manish Gur is a hockey referee who was awarded Hockey India Best Technical Official 2019-2020 on November 23, 2020. He expressed his pleasantly surprised that his work as a hockey judge was rated so highly. He commented on the work of Hockey India in recent years and especially during the pandemic in 2020.
Gur began his judicial career back in 1992, and after 20 years of work he moved to become a technical judge. He noted that in recent years there had been a great interest of young people in refereeing in hockey, which pleases him very much. He attributes such success to work done by Hockey India. The organization has been active in this area, with the establishment of training courses for judges and technical judges, which can be visited by everyone throughout the country. This program gave an incentive for development not only to young specialists but also to such as Gur. Thanks to these courses, he had the opportunity to improve as a certified FIH teacher for technical judges.
Manish Gur already has almost thirty years of experience in judging. Working at the Central Railway station as a deputy chief, he is not a great pleasure to actively train technical judges who want to succeed in hockey. This work is not easy. With judges and technical judges, they conduct training and psychological training so that they can always cope with a non-standard situation on the field during the match. Thanks to this training, technical judges can easily cope with any problem during the game. Thanks to the work of the employees of Hockey India, this sport is continuously developing and undergoing changes that undoubtedly benefit everyone.
All these changes have led to the fact that now women can freely engage in judging. Previously, even in women's matches, only men could judge. However, over the past couple of years, everything has changed. The number of women judges has increased by 5-6 times. It is because training courses for judges have become publicly available. The Federation tries in every possible way to support novice judges and those who have long been in the profession.
Speaking about the development of the hockey community, Gur noted the situation during the pandemic:
"I undoubtedly believe that Hockey India has done everything necessary to ensure that this difficult period for everyone goes as efficiently as possible. This was certainly helped by online meetings and seminars, thanks to which we constantly kept in touch. "