5 biggest wins in the history of the Indian Hockey Team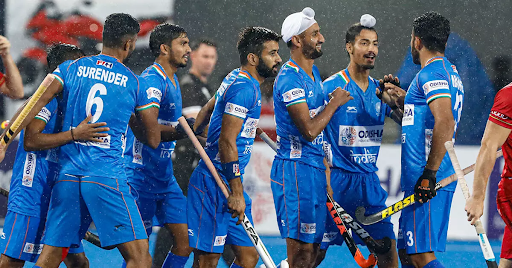 Indian men's hockey team has been one of the most dominant teams in the sport
For many decades, Indian hockey has thrived at the international level. Soon after independence, the men's hockey team began competing in international tournaments, while the women's team gained recognition in the 1970s.
Both the male and female field hockey teams have had some success over the years. They've won trophies and competed in prestigious events. The men and women have also won some really dominant victories as a result of their quality.
Earlier this year, India advanced to the Asia Cup knockout stage with a 16-0 victory over Indonesia. To qualify for the Super 4s with a better goal difference than Pakistan, India needed to win their game by at least a 15-0 margin.
However, this is nowhere near the biggest win in Indian hockey history. With that in mind, here are the top five biggest wins by senior Indian hockey teams in history:
#5 Indian Men's Hockey Team 22-1 vs Hong Kong, 1954
The Indian men's team who won Olympic gold in 1952 and 1956 travelled to Hong Kong for a Test series. With world-class players on its roster, India put on a goal-fest to defeat a relatively weaker opponent. The resounding victory came at a time when hockey was not recognised as an international sport, and it was not included in the Manila Asian Games in 1954.
The 22-1 victory demonstrated India's dominance in the sport, especially when hockey legends like Leslie Claudius, Balbir Singh Senior, and Udham Singh were at their peak.
#4 India Women's Hockey Team 22-0 vs Hong Kong, 1982 Asian Games
The Indian women's hockey team delivered an outstanding performance at the 1982 Asian Games, scoring 37 goals in five group games and winning the silver medal.
While the men's team defeated Hong Kong 22-1 in 1954, the women's team improved on that result by winning 22-0. It all happened at New Delhi's Shivaji Stadium, where fans were ecstatic to see the women get off to a flying start in their Asian Games campaign. They did, however, lose to South Korea in the final and were awarded the silver medal.
#3 Indian Men's Hockey Team 24-1 vs USA, 1932 Olympics
India entered the 1932 Olympics as the defending field hockey champions, having also won gold in 1928. Because India was still under British rule at the time, only seven of the squad's fifteen members were of Indian origin. Because only three countries competed in field hockey, India faced Japan and the hosts, the United States.
They defeated the hosts by an incredible score of 24-1, securing one of the most significant victories in Indian hockey history. Roop Chand, the star Indian player, scored ten goals, Major Dhyan Chand scored eight, Gurmeet Kular five, and Englishman Broome Pinniger one. This victory also secured India's second gold medal at the Olympic Games.
#2 India Women's Hockey Team 24-0 vs Nepal, 2016 South Asian Games
Since the South Asian Games' inception in 1984, India has been the dominant force. The women's hockey category was introduced in the 2016 edition and the Indian women took full advantage of this to completely destroy their opponents. The Indian women put on an incredible performance in their first South Asian Games match against Nepal in Guwahati.
They won by an incredible 24-0 score, setting the record for the largest win by an Indian women's hockey team in history. Punam Barla and Soundarya Yendela both scored four goals meanwhile, hat-tricks were scored by Rani Rampal, Jaspreet Kaur, Deepika, and Neha Goyal while Gurjit Kaur and Preeti Dubey each scored twice. India won the gold medal in women's hockey after defeating Sri Lanka 10-0 in the gold medal match.
#1 Indian Men's Hockey Team 26-0 vs Hong Kong, 2018 Asian Games
The Indian men's hockey team broke the record for the biggest win in their history 86 years after that iconic win at the 1932 Olympics. This time, they were accompanied by a full squad of Indian nationals. They faced Hong Kong in their second group game at the 2018 Asian Games, after defeating Indonesia 17-0 in the first. The Men in Blue were unstoppable against a shaky Hong Kong team, scoring 26 goals.
They had 13 different scorers in the game, a record in itself. Four goals each were scored by Harmanpreet Singh, Rupinder Sigh, and Lalit Upadhyay. Akashdeep Singh scored three goals, while Varun Kumar and Manpreet Singh Sandhu each had two. Six other players, including Vivek Sagar Prasad and S.V. Sunil, scored one goal each.
India won the bronze medal at the tournament's conclusion, but this historic victory is yet to be matched at any competitive level by any Indian hockey team.